Home
SESELJ SEEKS PROVISIONAL RELEASE
The motion states that "there is not even a theoretical possibility" that the accused might pose a threat to victims since, simply, "there is not a single victim" that Seselj could be held responsible for.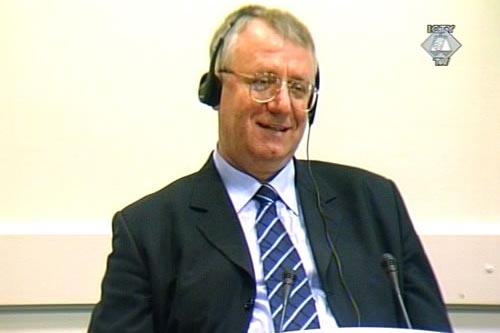 Vojislav Seselj in the courtroom
Vojislav Seselj, former leader of the Serbian Radical Party, charged with crimes against humanity in Croatia, Bosnia and Herzegovina and Vojvodina, seeks provisional release from the UN Detention Unit in The Hague, and demands that the restrictions on his communication privileges be rescinded.
These demands are contained in two motions submitted in mid-June by Seselj's legal counsel. They were made public today at the Tribunal. The motion for provisional release pending trial states that the accused has "appeared in The Hague voluntarily", that he has been in detention for 15 months and that the trial is not likely to start before 2007 since the prosecution, as Seselj's legal counsel claim, is unable to find evidence for its "unfounded accusations".
Since the accused seeking provisional release must satisfy the judges that he will not pose a threat to the victims while at large, the motion states that "there is not even a theoretical possibility" of him doing so because "there is not a single victim that the accused could be held responsible for, directly or indirectly or on the basis of any insinuations."
In the second motion, a demand is made to rescind the restrictions on Seselj's communications privileges whereby he is prohibited from contacting anyone except from his legal counsel, diplomatic and consular representatives and his immediate family. The motion seems to have been filed too late, since the restrictions, in accordance with the latest order of the Deputy Registrar, will be lifted on 1 July 2004.