Home
RESTRICTIONS ON VOJISLAV SESELJ'S COMUNICATION PRIVILEGES EXTENDED
Restrictions, first imposed last December, to be extended until the end of presidential elections in Serbia.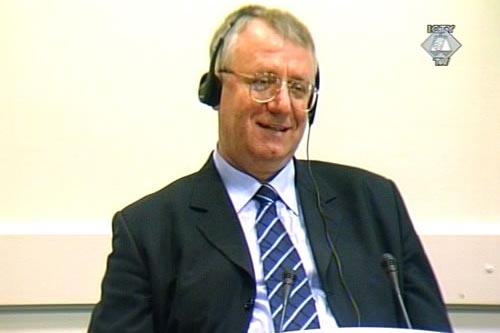 Vojislav Seselj in the courtroom
Vojislav Seselj's communication privileges will remain restricted until the end of the second round of voting in the presidential elections in Serbia. The Deputy Registrar of the Tribunal, David Tolbert, decided this today. First imposed on Seselj last December, the restrictions have been extended every 30 days. In today's decision, they have been extended by almost half a month: from 13 June to 1 July 2004.
Until then, Seselj is prohibited from having contact with anyone except his legal counsel (if any), diplomatic and consular representatives of Serbia and Montenegro and members of his immediate family. Family visits will be monitored under conditions prescribed by the Commander of the Detention Unit.
As today's decision states, the Deputy Registrar was motivated to extend the restrictions by Seselj's "defiant" disposition and persistent violation of decisions pertaining to his communications into and out of the UN Detention Unit. Considering it a "high probability" that a candidate from Seselj's party will win enough votes to go into the run-off, the Deputy Registrar thinks that the accused will "try to get involved in political activities… by sending letters of support to his party and its adherents." This assessment is based on a statement by the Secretary General of the Serbian Radical Party, Aleksandar Vucic, which was reported by the Tanjug Agency on 25 May and noted in a footnote to the decision. Vucic announces that Seselj "will find a way to send a new letter of support on the eve of the run-off, regardless of the fact that this will anger the guards in The Hague."
Seselj will have an opportunity to air his comments on the results of the first round of elections in public, since a regular status conference is scheduled for Monday, 14 June.