Home
THE EFFECTS OF BABIC'S GUILTY PLEA
Dr. Mladen Loncar testifies that Milan Babic's guilty plea has brought satisfaction to Croatian victims and a certain relief to Serbs in Croatia.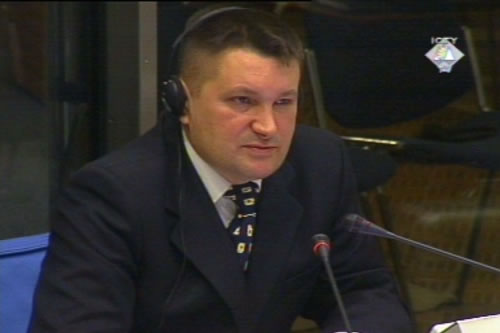 Mladen Loncar, witness at the Milan Babic trial
Milan Babic's guilty plea has had a positive effect on Croatian victims, this according to psychiatrist Mladen Loncar. He testified today during the sentencing hearing for the former president of the former Republic of Serbian Krajina.
In January 2004, Babic pleaded guilty to persecuting Croat and other non-Serb civilians in 1991 and 1992, qualified as a "crime against humanity" in the indictment. The charge for persecution specifies the murder of several hundred Croat and other non-Serb civilians in the villages of Dubica, Cerovljani, Bacin, Saborsko, Poljanak, Lipovaca, Skabrnja, Nadin and Bruska, as well as the wanton destruction of towns and villages, including educational and religious institutions.
In return for Babic's guilty plea and a promise of full cooperation, the prosecution withdrew the remaining four counts in the indictment and pledged to recommend a prison sentence not exceeding 11 years. The purpose of the two-day hearing, which began today, is to present any aggravating and mitigating circumstances that may help judges determine an appropriate punishment.
Dr. Loncar, a prosecution witness, testified to both the aggravating and mitigating factors in the Babic case. As an expert, he spoke about the impact war trauma has on the mental and physical health of victims and their families. When Babic's sentence is determined, an aggravating factor will be that victims who were detained and tortured, refugees, the families of those who were killed and eye-witnesses of atrocities still suffer, as Dr. Loncar testified, from post-traumatic stress disorder, depression, anxiety, dislocation stress, cardiovascular disease, diabetes and other disorders; in some categories of victims, the mortality rate is higher than in the rest of the population.
On the other hand, the effect of Babic's guilty plea on the victims of his crimes might be taken in mitigation. Dr. Loncar thinks the effects have been two-fold. First, the victims have gotten satisfaction from his admission of guilt because their suffering and status as victims has been recognized. This, Dr. Loncar explains, is very important. But even more important, he says, is that as a consequence of Babic's guilty plea, "the perpetrator has been given a name, guilt has been assigned to an individual; as a result, the negative emotions for the other ethnic group, Serbs, are reduced and are disappearing."
In response to judges' questions, Dr. Loncar admitted that, unfortunately, these are just his impressions from visiting the locations listed in the indictment and speaking to victims and their families rather than the result of scientific research. He got a similar impression as he spoke to Serbs in Croatia. He claims that among them, not one expressed any negative views of Babic's admission of guilt. Individualization of guilt, Dr. Loncar states, has brought a certain "relief" to Serbs in Croatia.
The other witness who testified at the hearing today, Drago Kovacevic, talked about Babic's political role in the period covered by the indictment and how his influence waned as the conflict escalated. As early as the beginning of 1992, Kovacevic said, "the Serb side considered him a traitor while the Croatian side demonized him, so that his position was rather unenviable."
The sentencing hearing for Milan Babic will continue and end tomorrow.