Home
"COWARDLY AND OMINOUS NATURE OF THE CRIME" AGAINST SARAJEVO
In its appeal, the prosecution claims that the "cowardly and sinister" nature of the terror campaign against Sarajevo, and the high rank of the accused Stanislav Galic must result in a higher sentence for the former commander of the Sarajevo-Romanija Corps of the VRS. He was sentenced by the Trial Chamber to 20 years in prison.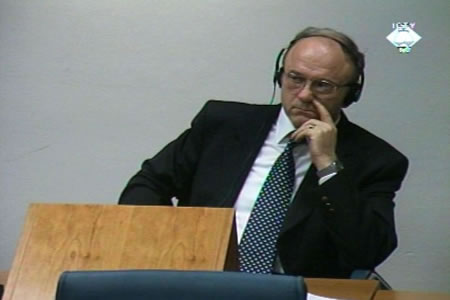 Stanislav Galic in the courtroom
"The sentence of life imprisonment is the only appropriate sentence that will reflect the cowardly and sinister nature of the crime of terror" and the important role of Stanislav Galic in the commission" of such campaign against Sarajevo, claims the prosecution in the appeal against the first-instance judgment of the former commander of the Sarajevo-Romanija Corps of the VRS, sentenced to 20 years in prison.
Last December, Galic was convicted of crimes against humanity and violations of laws and customs of war, for the prolongued campaign of shelling and sniper attacks against the capital of Bosnia and Herzegovina. However, the prosecution deems that punishing such crimes with 20 years in prison "is a descernible error, which requires the Appeals Chamber's intervention".
The prosecution does not challenge any of the Trial Chamber's factual findings – that Galic's forces terrorized Sarajevo holding its inhabitants under siege, in inhumane conditions and randomly killing innocent people – in their homes, in water lines, at weddings and funerals, children at play. Hundreds of people were killed by sniper and mortar fire, thousands were wounded and maimed, and all of the 300,000 inhabitants of the city at the time were terrorized. The prosecution adds that this was a prolongued, systematic and premeditated campaign. The crimes that Galic has been convicted of "clearly belong to the "worst case" category of crimes that will come before the Tribunal" and deserve the higest sentence, the motion alleges.
The second important factor for the increase of sentence, according to the prosecution, is the high position of the accused in the chain of command. "In assuming command of the Bosnian Serb forces encircling Sarajevo, Galic inherited" and implemented the strategy to attack civilians designed by his superiors the VRS commander Ratko Mladic and the Supreme commander Radovan Karadzic, the appeal states. Galic "served the campaign loyally", instead of "using his senor position to ensure that laws and customs of war were respected," states the prosecutor.
In order for the Tribunal to serve its dual function of "deterrence and retribution", in cases involving such grave crimes, severe punishment should be meted out, concludes the prosecutor and urged the Appeals Chamber to sentence Galic to life imprisonment.
Stanislav Galic (60 ) was arrested in an SFOR operation in December 1999. His trial began two years later and the first-instance judgment was delivered in December 2003. General Dragomir Milosevic, who is at large, is also indicted for the crimes in Sarajevo. Until April 1994 he was Galic's chief of st aff and then took over as the commander of the Sarajevo-Romanija Corps.