Home
PROSECUTION SEEKS LIFE FOR GENERAL GALIC
Crimes for which General Stanislav Galic has been convicted "are among the gravest before the Tribunal" and therefore, the prosecution submits in its appeal, he should get the appropriate punishment – the gravest there is.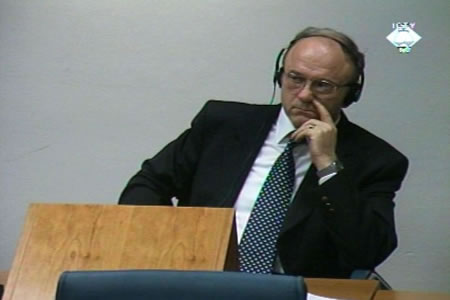 Stanislav Galic in the courtroom
In their appeal to the first-instance judgment of General Stanislav Galic, that was filed yesterday and was published today at the Tribunal, the prosecution seeks life imprisonment for the former commander of the Sarajevo-Romanija Corps of the VRS.
The key issue in the prosecution appeal is the following: Does the punishment of twenty years in prison – imposed last December by the Trial Chamber – "reflect the criminal responsibility of a commander holding a high rank who implemented a campaign of terror against the civilian population of a city under siege over a period of two years, which resulted in the killing of hundreds and wounding of thousands of civilians, and the terrorizing of about 300,000?"
In the opinion of the prosecution, the answer to this question "must be negative" and the 20-year penalty represents a "discernible error" requiring the intervention of the Appeals Chamber. Crimes for which General Galic was convicted in the first-instance judgement, the appeal states, "are among the gravest ever tried before the Tribunal", and the Trial Chamber was at fault when it did not impose the gravest sentence available to it by the Statute.
The Appeals Chamber is requested to re-examine the first-instance judgment and impose the sentence of life imprisonment.