Home
WITNESS: RANDOM SHELLING OF KNIN
Describing the shelling of Knin on 4 and 5 August 1995 Canadian captain Alain Gilbert says that – judging from what he saw from his office in the UN Sector South Command – it was his impression that the artillery did not engage military targets; the town was shelled randomly, he said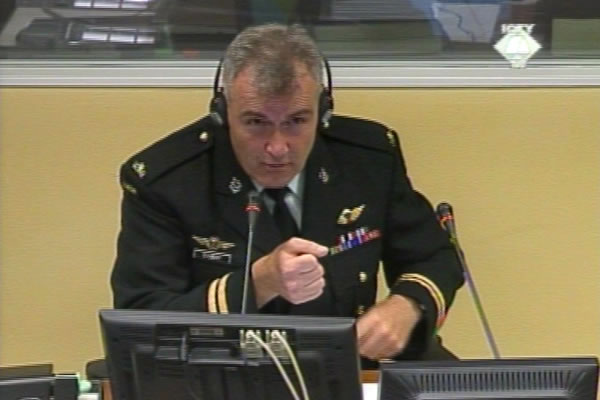 Alain Gilbert, witness at the Gotovina, Cermak and Markac trial
Canadian captain Alain Gilbert was General Alain Forand's aide-de-camp in August 1995. At the time, Forand was the commander of the UN troops in Sector South in Krajina. In January 2008, Gilbert gave a statement to the OTP investigators describing what he knew about the crimes committed in Operation Storm and in its aftermath. Croatian generals Ante Gotovina, Ivan Cermak and Mladen Markac are on trial for those crimes. In his brief examination-in chief, Gilbert confirmed his statement was true and authentic and clarified some of its parts.
Like general Forand and other Canadian 'blue helmets', Gilbert observed the shelling of Knin on 4 and 5 August 1995 from the UN base. As he contends, the town was under heavy artillery fire; some 400 shells were fired from the Croatian side in just six minutes in the early morning of 5 August 1995. On 25 August 1995, the witness started taking care of the refugees who had sought shelter in the UN base. In his opinion, most of them wanted to return to their homes but in fear for their personal safety they opted to leave for Serbia. According to the witness, the reason for this could be the looting and burning down of abandoned Serb houses in Krajina that reached mass proportions after Operation Storm.
In his cross-examination, Gotovina's defense counsel put it to the witness that because of the fog and the distance from the UN base to the town he could not see if military facilities or civilian buildings were targeted. Gilbert admitted that he couldn't see where the targets were in the town, adding that the shells fell all over the town. It was his impression, he said, that the artillery did not target specific military facilities; Knin was 'shelled randomly'.
When the defense counsel put it to the witness that the UN base in Knin was used not only as a refuge for civilians but sheltered a number of RSK Army soldiers, the witness replied he knew about the case of a single Serb soldier who was expelled from the base when it was established he was in the army. The witness didn't want to comment on the fact that the Croatian authorities asked for the surrender of 38 persons from the UN base because they were war crimes suspects. In his view, they were responsible for crimes only from the Croatian point of view, not according to the UN personnel.
The Canadian captain completed his evidence today. Elisabeth Rehn, former UN special rapporteur for human rights, will give evidence at the trial of Croatian generals tomorrow.