Home
UNWILLING PROSECUTION WITNESS DEFENDS MARKAC
Although his intention to change sides and testify for the defense instead of the prosecution was thwarted, Zdravko Janic agreed with every argument put to him by the defense counsel of Mladen Markac, his predecessor at the post of commander of the Croatian special police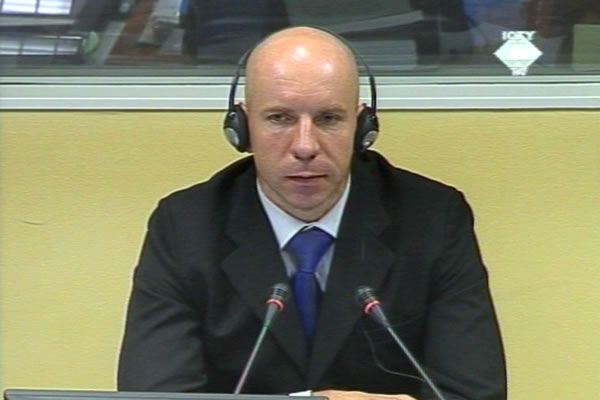 Zdravko Janic, witness at the Gotovina, Cermak and Markac trial
The commander of the Croatian MUP Special Police Zdravko Janic gave a statement to the OTP investigators in 2004 and agreed to give evidence about his role in Operation Storm at the trial of Ante Gotovina, Ivan Cermak and Mladen Markac. In the meantime he decided to 'change sides' and to give evidence for the defense of the accused generals. However, this turn of events was prevented by the Trial Chamber. At the prosecution's request, the Trial Chamber subpoenaed Janic to come and testify in The Hague.
In his two-day examination-in chief, Janic avoided confirming the prosecution allegations. Today, when he was examined by the defense counsel of his predecessor at the post of the special police commander, Mladen Markac, the witness for the most part agreed with what the defense put to him. Cross-examination was mostly focused on the structure of Croatian regular and special forces, their training and equipment. The court heard that the special policemen were trained to perform various activities, including diving, jumping and running. They also had courses in the law of war and were issued a booklet with its key provisions.
Markac's defense counsel Goran Mikulicic used Janic's testimony to tender into evidence several documents showing that during Operation Storm and after it the special police received orders from the Croatian Army Main Staff and its chief, Zvonimir Cervenko. As he continued with the examination, the defense counsel asked a series of questions related to the tasks, areas of operations and axes of movement of the Croatian special police in Operation Storm, and was warned by the presiding judge to focus on the gist of the case because the Trial Chamber had no interest in hearing if the operation was well organized or not.
Up until the very end of Janic's evidence, the defense never once mentioned the burning of the houses in the village of Ramljani and the killing of civilians in the villages in Grubori, the main points in the prosecutor's examination. In an effort to prove that the incidents, if they happened at all, could have occurred during the clashes with the remnants of the SVK, the defense counsel tendered into evidence a number of documents from August 1995. These ware warnings issued to Croatian soldiers and police about the 'remaining enemy bands' they might encounter in some parts. Only one of the documents, however, indicates that such clashes really did happen and that they resulted in the wounding of a Croatian soldier.
Finally, when Janic, who had worked with Markac for some twenty years, was asked about Markac's character, he said that Markac was 'an unassuming responsible and honorable police officer'.