Home
'DELIBERATE HARASSING FIRE' ON KNIN
Joseph Bellerose, former UN soldier in Krajina, says there was no military justification for the 'random fire at random intervals' targeting Knin. He is giving evidence at the trial of three Croatian generals charged with crimes in Operation Storm. He concludes that the objective was to intimidate civilians and force them to leave, not solely to defeat the RSK forces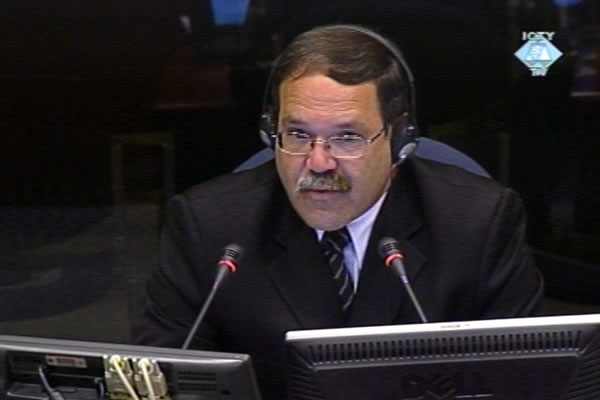 Joseph Bellerose, witness at the Gotovina, Cermak and Markac trial
In August 1995, during Operation Storm, Canadian lieutenant-colonel Joseph Bellerose was chief engineer in the UN Sector South in Krajina. In his evidence at the trial of Croatian generals Ante Gotovina, Ivan Cermak and Mladen Markac, Bellerose explained why he believed there was no military justification for the shelling of Knin. In his view, the shelling was aimed at intimidating the Serb civilians and making them leave.
The few military targets in Knin, Bellerose contends, included the two army barracks and the SVK headquarters. However, he didn't notice the artillery targeting those buildings. In his view, the attack was all about 'random shelling at random times'; this lead him to conclude that the objective was to make Serb civilians believe the next shell would fall near them; it would be better for them to leave. 'This was deliberate harassing fire', the witness concluded.
In his cross-examination, General Gotovina's defense counsel showed the witness a report of Yasushi Akashi, special representative of the UN Secretary-General, and excerpts from statements given by several prosecution witnesses who all agree that they saw no substantial damage to civilians object a few days after Operation Storm; they were all surprised it was so. Bellerose stuck to his claims admitting nevertheless that he didn't count the buildings that were destroyed in Knin. In the statements he gave to the OTP investigators, the Canadian officer stated that as early as on 6 August 1995 he saw Croatian forces clearing the rubble and fixing civilian buildings in the main street in Knin to present a better picture to the international community.
In his examination-in chief, the witness stated he had been prevented from entering the burned down Serb villages by the Croatian special police on several occasions after Operation Storm. The defense of Mladen Markac, who commanded the Croatian special police at the time, asked for additional information. Bellerose said that the villages were located near Gracac and that the policemen wore grey or black uniforms. Bellerose was unable to recall any other details.