Home
SARINIC: 'REFUGEES MUST NOT RETURN'
In the re-examination of Ambassador Galbraith, prosecution shows transcripts from two meetings of the Croatian leadership in August 1995. Tudjman wants the Serb property to be confiscated, but his chief of staff Sarinic and the interior minister Jarnjak are trying to work out a mechanism to prevent the Serbs from returning. The defense challenges the authenticity of those documents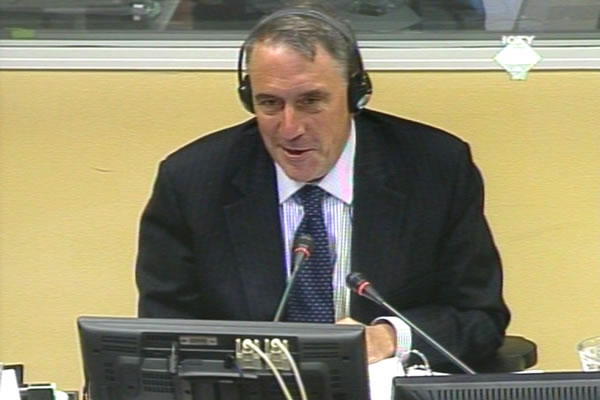 Peter Galbraith, witness at the Gotovina, Cermak and Markac trial
After four days, former US ambassador to Croatia Peter Galbraith completed his evidence at the trial of Croatian generals Ante Gotovina, Ivan Cermak and Mladen Markac. Today he was re-examined by the prosecutor who once again addressed the issue of the efforts to prevent the return of Serb refugees after Operation Storm. The prosecutor showed two transcripts from the meetings of the Croatian leadership in August 1995; at the meetings, president Franjo Tudjman and his associates discussed the return of Serbs to Krajina.
At the first meeting, held a few days after Operation Storm, Tudjman advocated the confiscation of the property of all Serbs who failed to return to Krajina within 30 days; he also wanted Croats to move into Serb houses. At the next meeting, Tudjman's chief of staff Hrvoje Sarinic said the refugees 'must not return'. Sarinic and the interior minister Ivan Jarnjak then tried to work out the mechanisms to prevent them from returning. Galbraith says that everything he heard today fit well with what he said in his examination-in chief: the Croatian authorities did everything to prevent Serbs from returning; what they were saying about the ostensible temporary confiscation of Serb property for the purpose of protecting was merely a cover.
The prosecutor didn't specify the dates when the meetings were held, and the defense contested the authenticity of the transcripts. The judges allowed these documents to be used but they will not be admitted into evidence until the Chamber's has ruled on the defense's objection.
In answer to the presiding judge, Galbraith said that in his opinion the shelling of Knin was not in violation of international humanitarian law, adding that it was definitely not comparable to the shelling of Vukovar, Sarajevo or Dubrovnik. A few days after the shelling, the witness noted, his embassy personnel entered Knin, but found no significant damage to civilian buildings.
After Galbraith completed his evidence, the prosecution called a new protected witness who will testify in closed session.