Home
THE PROSECUTION: GENOCIDE CONVICTION AND LIFE IN PRISON FOR KARADŽIĆ
Using Prijedor as an example, the Prosecution argued that ethnic cleansing in seven munipicalities of Bosnia and Herzegovina in 1992 reached the proportions of genocide and that former Republika Srpska leader should be found guilty on the first count of the indictment and sentenced to life in prison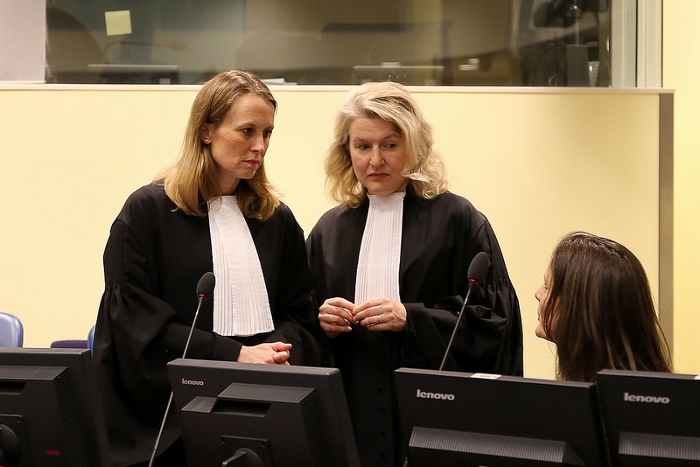 Prosecution team in Radovan Karadžić's Appeal case
The Trial Chamber in the Radovan Karadžić case erred in its decision to acquit the accused on the first count of the indictment charging former president of Republika Srpska with genocide committed in 1992 in the Bosnian municipalities of Bratunac, Foča, Ključ, Prijedor, Sanski Most, Vlasenica and Zvornik, stated the Prosecution the second day of the appeals hearing in the Karadžić case before the Mechanism for International Criminal Tribunals.
Prosecutor Katrin Gustafson pointed out Prijedor municipality as the most extreme case of violence: in 1992 it suffered a wave of massive attacks on villages and towns that were destroyed in reckless shelling, with their religious buidings erased. Thousands (and thousands) of people were detained in inhuman conditions in the notorious Omarska, Keraterm and Trnopolje camps, where inmates were routinely executed, beaten, raped and exposed to conditions calculated to bring about to their phisical destruction. Those who survived were forced to flee leaving all their possessions behind.
The intention to destroy the Muslim community of Prijedor was evident from the fact that the first targets were leading members of that community – lawyers, doctors, teachers, engineers, explained Gustafson. The campaign of violence yielded the intended result: the Muslim community of Prijedor has been destroyed, and those who survived cannot function as members of the Prijedor community any more. "As if we had been killed, too", said one witness from Prijedor, as quoted by Gustafson.
Radovan Karadžić had a decisive role in that campaign of violence and therefore the Appeals Chamber should deliver the harshest sentence and convict him to life in prison, said the prosecutor. The Trial Chamber sentenced Karadžić to 40 years.
The defence counsel Peter Robinson replied that the Trial and the Appeals Chambers of the ICTY and the MICT in the past 20 years ruled in a number of cases that serious crimes had been committed in Prijedor area, but not with a genocidal intent. In other words, not with an intention to destroy the Muslim community in part or in whole, but to expel or resettle it from the municipality.
"The intention to resettlea group is not the same as the intention to destroy it", said Robinson, drawing the attention of the judges to the sentences in the cases of Radoslav Brđanin, Milorad Stakić, Momčilo Krajišnik, Duško Sikirica, and the recent sentence in the Ratko Mladić case – all of whom have been acquitted of genocide in Prijedor and several other municipalities.
At the end of a two-day appeals hearing, the presiding judge announced the sentence would be delivered "in due course". The chamber consists of the presiding Theodor Meron (US), William Hussein Sekule (Tanzania), Vagn Prüsse Joensen (Denmark), José Ricardo de Prada Solaesa (Spain), and Graciela Susana Gatti Santana (Uruguay).