Home
"INDEFINITE STAY" OF HADZIC'S TRIAL
The majority of the judges in the Trial Chamber have concluded that Goran Hadzic 'for the time being' is not able to stand trial and have decided to "stay the proceedings indefinitely". In his separate opinion, Judge Mindua notes that he cannot reach a decision without the opinions of independent medical experts. According to Judge Mindua, both Hadzic and the victims deserve a 'formal judgment'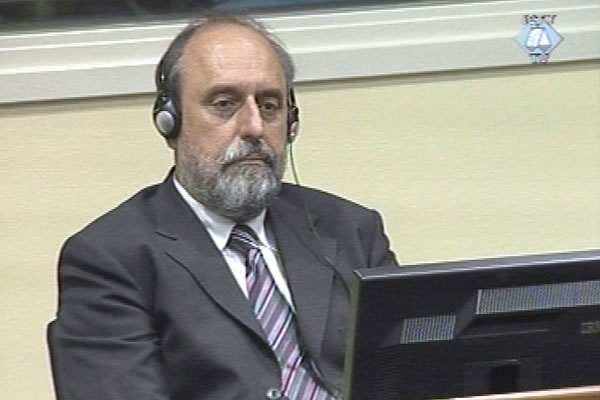 Goran Hadzic in the courtroom
The trial of Goran Hadzic has is in a state of "indefinite stay of proceedings" following the Trial Chamber's decision that 'for the time being' the former prime minister of the SAO Eastern Slavonia is not fit to stand trial. The trial was first interrupted in October 2014 when Hadzic was diagnosed with an inoperable brain tumor. At that time, the defense had completed a half of its case.
Hadzic refused to waive his right to attend the trial, prompting the prosecution to urge the Trial Chamber to order that the remaining defense witnesses be questioned regardless of Hadzic's presence or absence. The defense wanted the trial to be either terminated or stayed indefinitely. Based on medical reports and experts' reports in July and August 2015, the Trial Chamber decided in October 2015 to suspend the trial for three month. The Appeals Chamber reversed the decision. They ordered the Trial Chamber to once again review the evidence to see if Hadzic was fit to stand trial. They were given three weeks to do that, by 25 March 2016.
After the Appeals Chamber's order to assess Hadzic's health on such short notice, the Trial Chamber concluded that it was impossible to schedule another examination and obtain more expert findings. The trial judges thus decided to assess Hadzic's health based on the fortnightly reports they receive from the Detention Unit duty physician. The physician bases his reports on telephone conversations with the accused and his wife, as Hadzic has been provisionally released and is currently in Serbia.
The Trial Chamber concluded that Hadzic and his wife had a vested interest in him being found not fit to stand trial, but they nevertheless decided they could rely on the UNDU physician's reports. In his opinion, Hadzic has impaired communication and his health has deteriorated. The majority of the judges in the Trial Chamber, with Judge Mindua appending his separate opinion, have ruled that Hadzic 'is no longer able to attend the proceedings, even if assisted by his defense lawyers' and for the time being, he is 'unfit to stand trial'. However it didn't lead to the conclusion that the proceedings must be terminated because the majority in the Trial Chamber considered that an " indefinite stay of proceedings", would "adequately serves the interests of justice", the victims and Hadzic himself.
In his separate opinion, Judge Mindua stressed that he was unable to assess whether Hadzic was fit for the trial without new medical reports based on an examination, instead of 'hear-say' information coming from Hadzic and his wife. Judge Mindua insists that the victims 'have right to hear the truth'. The victims deserve to see a 'formal judgment' in this case, as does Hadzic. Hadzic was indicted on 14 counts in the indictment with crimes against humanity and violations of laws and customs of war in Eastern Slavonia from June 1991 to the end of 1993.