Home
DUSAN DUNJIC DIED OF NATURAL CAUSES
A post mortem conducted by Dutch pathologists in the presence of their Serbian colleagues has shown that Mladic's witness Dr Dusan Dunjic died of natural causes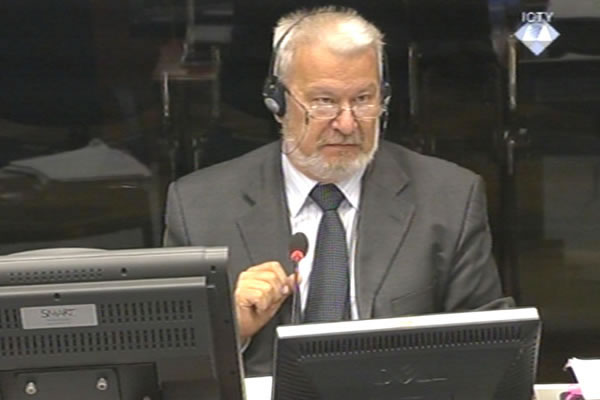 Dusan Dunjic in the Tribunal during testemony at the Radovan Karadzic case
The enquiry conducted by the Dutch authorities and a post mortem by the Dutch pathologists in the presence of their Serbian colleagues have shown that Dr Dusan Dunjic died of natural causes in his hotel room in The Hague in the night between Wednesday and Thursday last week, it was announced today at the Tribunal. Details of the post mortem have not been disclosed.
Dr Dunjic, a professor of forensic medicine from Belgrade, was expected to appear before the Tribunal as Ratko Mladic's expert witness. In his report drafted for the defense Dr Dunjic contested the findings of the prosecution experts on the cause of death of victims exhumed from mass graves in Srebrenica.
In the past 15 years Dr Dunjic appeared before the Tribunal seven times. As the expert for the prosecution Dr Dunjic testified at three trials for the crimes in Kosovo in 1998 and 1999: in two cases against Serbian political, police and military officials and in the case against the former KLA commanders Ramush Haradinaj, Idriz Balaj and Lahi Brahimaj. Dr Dunjic also testified in the defense of Radovan Karadzic, Stanislav Galic, Dragoljub Kunarac and Vujadin Popovic.