Home
DRAGAN KIJAC'S EVIDENCE INTERRUPTED
After a two-hour break caused by 'unforeseen circumstances', the trial of the former VRS Main Staff commander continued with a discussion of administrative issues. The accused was not present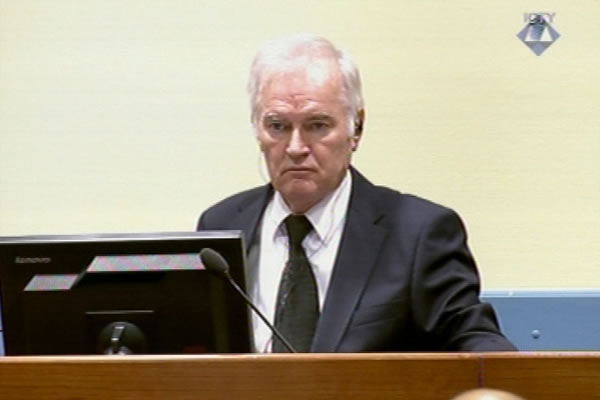 Ratko Mladic in the courtroom
Ratko Mladic's trial was interrupted today about 10 minutes into the hearing. The prosecutor only just began the cross-examination of Dragan Kijac, former chief of the Republika Srpska MUP State Security Department, who was later appointed the Republika Srpska police minister.
After the prosecutor asked Kijac two questions, the hearing went into private session, at Mladic's defense request. The judges ordered the witness to leave the courtroom too. About 10 minutes later, the hearing was once again opened to the public. Presiding judge Orie stated that the trial had been interrupted due to 'unforeseen circumstances'. The presiding judge could not say whether the trial would continue later today or on Monday, 26 October 2015.
The trial resumed two hours later, but without the accused who had waived his right to attend. The presiding judge informed the visitors in the public gallery that Mladic wouldn't return to the courtroom today. The parties discussed administrative issues.