Home
TOMASICA EVIDENCE BEGINS IN CLOSED SESSION
The prosecution began calling its evidence on the Tomasica mass grave with the testimony of a protected witness, testifying under the pseudonym RM 383. The protected witness mostly testified in closed session, and his evidence concerned the collection, transportation and burial of victims killed in Prijedor. The defense stated it was 'not ready' and sought more time to prepare to contest the allegations of prosecution experts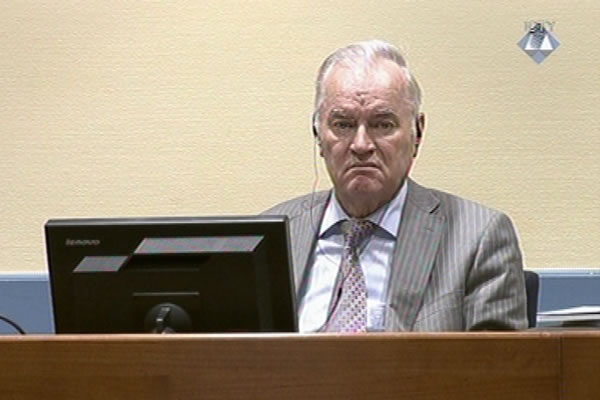 Ratko Mladic in the courtroom
After a one-month break, the trial of Ratko Mladic continued as the prosecution re-opened its case to call additional evidence on the Tomasica mass grave near Prijedor. At the beginning of the hearing, the defense indicated it was 'not ready' to contest the allegations of the prosecution experts. Mladic's lawyers need more time to prepare. 'We want to state for the record that the time allotted for the preparations is neither reasonable nor sufficient to fully and adequately contest the evidence of the prosecution experts', Mladic's defense counsel Branko Lukic noted.
According to the defense, during the break the defense couldn't find any experts, let alone to prepare them to go through the prosecution experts' reports and to respond to the findings. The defense argued that the prosecution began its investigation of Tomasica back in 2002, continued it in 2004 and 2006 and then proceeded with it until 2013, when the exhumations were completed. The entire International Commission on Missing Persons was involved in the effort together with the BH prosecutor's office and the local police, the defense counsel stressed. With limited funds and meagre staff, the defense could not in a single month contest the evidence that had been collected in a space of a decade, Lukic said.
According to prosecutor Alan Tieger, the defense's argument mixes apples and oranges. The fact that the location was first probed in 2002, without any results, has nothing to do with the possibility to analyze precise results obtained when the grave was exhumed in 2013, the prosecutor noted. The time issue is controversial, presiding judge Orie eventually concluded. Before indicating that he would not be rushed about the decision, the presiding judge recalled that the Appeals Chamber had previously denied the defense's motion for additional time.
The first witness from the prosecution's witness list for Tomasica was brought into the courtroom with the curtains down. The witness testified with protective measures, under a pseudonym,
RM-383, and with image and voice distortion. He testified about 'one instance in which the bodies of victims killed in Prijedor were collected, transported and buried in the Tomasica mass grave', prosecutor Arthur Traldi summarized the witness's statement in one sentence. Most of the witness's evidence was heard in closed session.
In the brief part of his testimony open to the public, the witness said that when he arrived at Tomasica he saw a lot of dug up soil and an excavator. Based on the witness's words, it could be concluded that soldiers had dropped the bodies into the pit. The prosecutor asked him if they had discussed filling the pit. 'Nobody asked us anything', the witness replied, adding that the 'superiors' had made the decision. Judge Flugge asked the witness which institution those 'superiors' belonged to. The witness answered in closed session.
Witness RM 383 was cross-examined in closed session.