Home
WHERE WAS MLADIC IN THE EVENING ON 16 JULY 1995?
Witness Velo Pajic served in the 67th Communications Regiment in Mladic's Main Staff during the war. Today he testified about radio relays and telephone and cable communication lines between the various VRS commands. In the cross-examination, the prosecutor tried to establish Mladic's whereabouts in the evening of 16 July 1995 - the last day of Srebrenica executions - based on intercepted conversations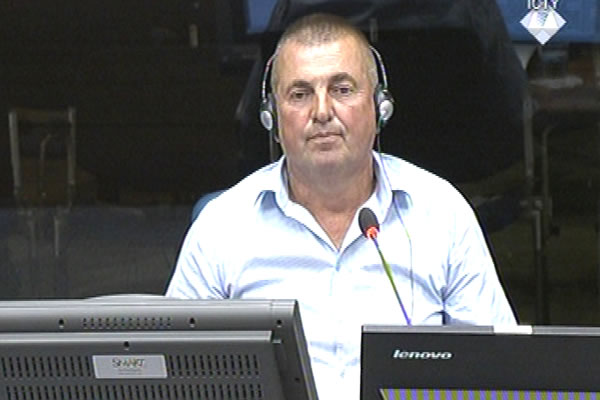 Velo Pajic, defence witness at Rako Mladic trial
During the war Velo Pajic served in the 67th
Communications Regiment of the VRS Main Staff. It was his task to set up and maintain radio relays and telephone and cable communication lines between Mladic's command and subordinate corps, Karadzic's Supreme Command, other Bosnian Serb authorities and the Yugoslav Army.
In his evidence Pajic explained that the Main Staff's Communications Center facility was housedin an underground bunker in Crna Rijeka. The entrance to the bunker was in the Javor villa on the foothills ofMount Javor. On the summit of the mountain, called Veliki Zep, there was the VRS radio relay hub. According to the witness, General Mladic would often spend time there; in fact, his office was nearby.
Pajic's evidence was rich in technical details about how the communications with the Main Staff functioned during the war. A significant portion of Pajic's testimony focused on where Mladic was in the evening of 16 July 1995, the last day of the mass executions of male prisoners from Srebrenica. According to the prosecution, Mladic was in the Main Staff facility in Crna Rijeka, while the defense alleges he was in Belgrade.
Both the defense and the prosecution agree that Mladic was in Belgrade on 16 July 2015 at 4:15 pm. This is when Mladic talked to the officer in charge in the Main Staff in Crna Rijeka over the phone. According to the defense, after the conversation Mladic remained in Belgrade. The prosecution claims that he went back to Crna Rijeka, and uses an intercepted conversation between Mladic and Milos Kostic to corroborate the claim.Mladic and Kostic, who was in the US, talked on the phone that same evening at 22:50 pm.
As he was questioned by prosecutor Abeer Hasan, the witness confirmed that it would have been impossible for the BH Army to intercept Mladic's phone callif he had called someone in the US from Belgrade. The fact that the BH Army surveillance service managed to intercept and record the conversation between Mladic and Kostic in the evening of 16 July 1995 means that Mladic was back in the Main Staff in Crna Rijeka that evening, the prosecutor argued.
As the first session drew to a close Mladic made loud comments and was removed from the courtroom. Thus he was unable to hear Pajic's whole testimony. The accused will return to the courtroom tomorrow morning. The defense will proceed with its case and call a new witness.