Home
PROSECUTION OPPOSES FOUR-MONTH BREAK AT MLADIC TRIAL
According to the prosecution, the defense's demand for an almost four-month break at the trial is unacceptable. The defense has asked for the break in order to be able to prepare its case on the Tomasica mass grave near Prijedor. The Trial Chamber has proposed that the prosecution should open its case in May or June 2015. The defense, on the other hand, wants the case to be postponed until late August 2015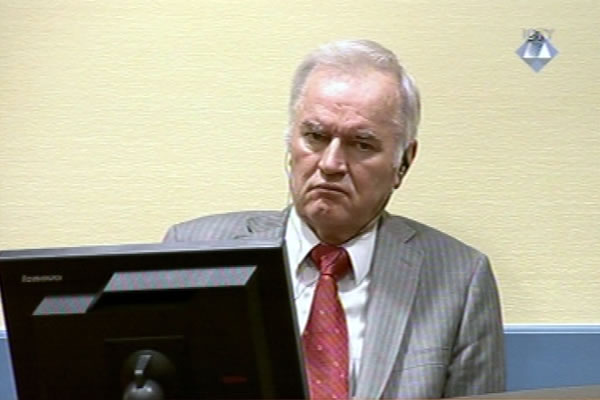 Ratko Mladic in the courtroom
The motion in which Ratko Mladic's defense has asked the Trial Chamber to suspend the trial for three or four months in order to allow the defense to prepare its case on the Tomasica mass grave is based on a 'series of false and misleading arguments', the prosecution has claimed. In its brief disclosed on Friday, the prosecution wants the judges to dismiss the defense motion. In September 2013, a grave containing the remains of hundreds of victims was found in the Tomasica mine near Prijedor. In a reduced case, the prosecutor intends to call seven factual witnesses and six experts.
In response to the Trial Chamber's proposal that the case should be reopened in May or June 2015, the defense argued last week that they needed three or four months and more money to be able to prepare to contest the prosecution evidence. According to the defense, Mladic's case should be suspended on 1 May 2015 to allow the defense to investigate the Tomasica grave and to prepare to answer the prosecution case after the summer recess, in late August 2015.
In its motion the prosecution opposed the defense's proposal, stressing that the defense wanted to mislead the Trial Chamber when it argued that the prosecution had had more than two years to collect and classify the evidence on the Tomasica grave, and that the prosecution had not disclosed the evidence properly. The defense also claimed that they would need to go through about 1,000 documents, including some that have not been translated yet. The prosecution claims those arguments were 'not true'.
According to the prosecution, there is no 'legitimate' reason to adjourn the trial as requested by the defense. It is now up to the Trial Chamber to decide whether to grant the defense more time to prepare its case and to investigate the Tomasica mass grave.
The prosecution's new evidence is related to the parts of the indictment charging the former VRS Main Staff commander with genocide against the non-Serbs in six BH municipalities including Prijedor in 1992.