Home
UPLEASANT STENCH OF DEAD BODIES
Dragoslav Trisic, former assistant commander in the VRS Bratunac Brigade, claims he knew nothing about the mass executions of Muslim prisoners in Srebrenica in July 1995. He did hear rumors about an incident in Kravica. Although he lived in Bratunac, he did not feel 'the unpleasant stench of dead bodies' that spread all over the town when the bodies were moved to new sites in September and October 1995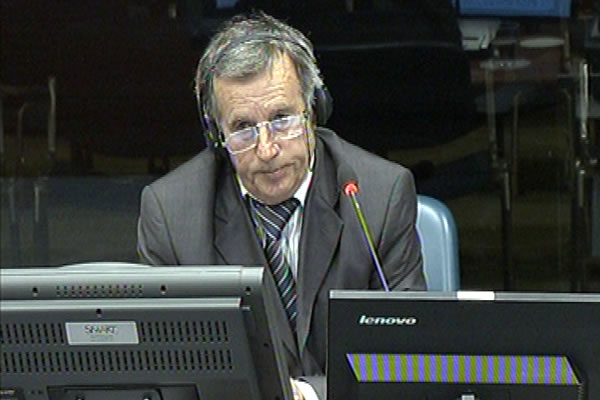 Dragoslav Trisic, defence witness at Rako Mladic trial
When the VRS launched the Srebrenica operation, Dragoslav Trisic was assistant commander in the Bratunac Brigade. In his statement to the defense he claims that on 12 July 1995 he saw Ratko Mladic tell the people of Srebrenica in Potocari that they would be taken to Tuzla; the residents 'were pleased'. He claims he did not see men being separated from women and children in Potocari, or Serb soldiers using force.
As Trisic said, he spent the next day in his apartment in Bratunac. He 'did not see anything untoward' in the night between 13 and 14 July. According to the prosecution evidence, that night Bratunac was full of captured men. Some were killed in the town, and the rest were taken to the Zvornik area the next day to be killed. The witness heard about a shooting incident in Kravica on 13 July, which happened after a prisoner attacked a police officer and other prisoners tried to escape and were fired on. According to the indictment, about 1,000 were executed in Kravica that day.
As he was cross-examined by prosecutor Carolyn Edgerton, Trisic confirmed that on 19 October 1995 he attended a meeting where Captain Momir Nikolic informed those present that the Bratunac Brigade was engaged in a 'terrain clean-up operation' on the orders of the Main Staff. At first, Trisic was evasive, but he finally confirmed that he learned on that occasion that the Main Staff had ordered that the bodies of the Srebrenica victims be dug up and moved to new locations. He insisted that he had not been in charge of terrain clean-up and he had no knowledge of it.
The prosecutor confronted the witness with his testimony in the Popovic et al. case, where he said he learned 'from some friends' that the people killed in the Kravica warehouse had been buried in the Glogova village. Today the witness said he had been told by Dragan Mirkovic from the Bratunac Civilian Protection, who had taken part in the clean-up, i.e. the exhumation of old graves and the transfer of bodies to new sites. The operation was carried out in September and October 1995. The purpose of the removal of the remains of thousands of the victims was to cover up the crime.
The prosecutor quoted from a statement made by an insider witness who said that everyone knew the bodies of the Srebrenica victims were being moved in trucks in the course of the clean-up. The insider claimed that children would come across legs and arms by the side of the road, adding that the characteristic odor of decomposing bodies could be felt in his apartment in Bratunac in those days. Trisic, who also lived in Bratunac, about fifty meters away from the Fortuna hotel, was adamant that he had seen nothing and had not felt the stench of the dead bodies. 6