Home
MLADIC'S DEFENSE: MORE TIME AND MONEY FOR TOMASICA INVESTIGATION
Ratko Mladic's defense has opposed the judges' proposal that the prosecution begin calling evidence on the Tomasica mass grave near Prijedor in May 2015. The defense wants the case to be reopened later, and not before mid-August 2015. Mladic's lawyers have also called for more money for their investigations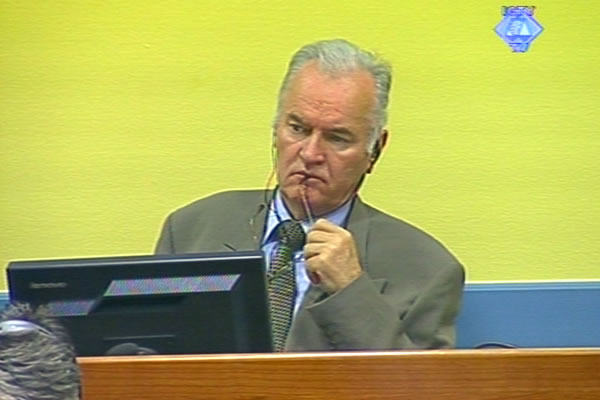 Ratko Mladic in the courtroom
Ratko Mladic's defense has today responded to the Trial Chamber's invitation to state its view on the possible re-opening of the prosecution's case in May or June 2015. The prosecution wants to call new evidence on the Tomasica mass grave near Prijedor. The defense has asked for more time and money for the investigation and preparations to be able to contest the prosecution's evidence on Tomasica.
In October 2014, the Trial Chamber allowed the prosecution to re-open its case to call evidence on the Tomasica mass grave near Prijedor because new evidence came to light after the end of the trial.The grave with hundreds of non-Serb victims was discovered in the Tomasica mine in November 2013. In the course of the mini-case, the prosecution will call seven fact witnesses and six experts. The Trial Chamber has announced that the case could begin in May or June 2015.
The defense wants the date to be pushed back in order to be able to prepare adequately. The defense case of the accused general would continue until 1 May 2015, when the trial would be adjourned until the end of the Tribunal's summer recess, 16 August 2015. The prosecution would begin its Tomasica case then, the defense has suggested.
Also, the defense wants the Tribunal to provide more money to finance the investigation. The defense's motion states that all the money the Tribunal has allotted to General Mladic has been spent; the defense expects to receive additional funds that would allow it to prepare an adequate response to the prosecution's evidence on Tomasica. Most of the money will be spent on expert reports.
Ratko Mladic is charged with four joint criminal enterprises in BH. The evidence on Tomasica may be relevant for the parts of the indictment pertaining to Prijedor as one of the six municipalities where genocide against the non-Serbs was committed in 1992.