Home
SESELJ RESPONDS TO PROSECUTOR'S MOTION
Vojislav Seselj believes that the chief prosecutor is in collusion with his enemies at home and abroad. That is in fact the real reason why Brammertz contested the Trial Chamber's decision for Seselj's provisional release pending judgment; there were no legal grounds for the opposition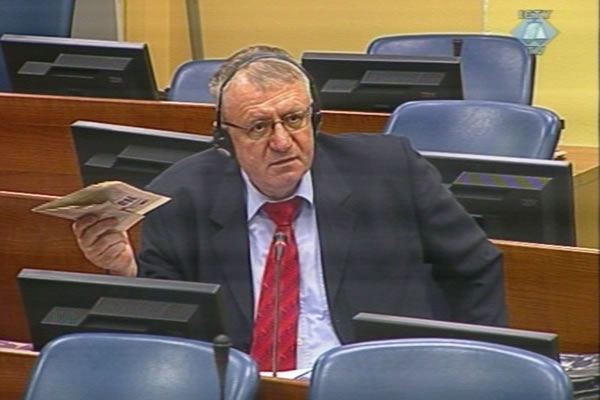 Vojislav Seselj in the courtroom
Vojislav Seselj demands that the prosecution's motion against his provisional release be rejected. In Seselj's view, the motion is politically motivated and there are no valid legal arguments to support it. The accused was provisionally released on 6 November 2014. In January 2015, the chief prosecutor petitioned the Trial Chamber to bring Seselj back to The Hague. When the motion was denied, the chief prosecutor turned to the Appeals Chamber.
In his response to the prosecution's appellate brief, Seselj accused Chief Prosecutor Serge Brammertz of 'bearing a personal grudge' against Seselj and of 'falling into the embrace' of Seselj's enemies, particularly of the Croats and the Croatian president-elect Kolinda Grabar Kitarovic. In his motion, the Serbian Radical Party leader misspells her name, giving it a rude meaning. Not by accident, since the rest of the motion contains the kind of vituperations, aimed primarily against the chief prosecutor, similar to those Seselj has used in the titles of his books. Without naming any sources, in his motion Seselj claims that Brammertz has received half a million euros as a reward from the Croatian government, and in return he has pledged that he will make every effort to bring the Serbian Radical Party leader back to The Hague.
Apart from insults and accusations Seselj also notes that the prosecution 'did not produce a single legal argument' in support of the motion. The prosecution argued in the motion that Seselj should be brought back to the detention unit because he had violated the two minimal conditions for provisional release: to return voluntarily to The Hague when ordered to do so, and not to threaten the victims and witnesses in his case. As the prosecution recalled, as soon as the Serbian Radical Party leader arrived in Serbia, he stated publicly that he would never return voluntarily to the detention union. In his public appearances, Seselj insulted victims and threatened every person who had cooperated with the OTP in The Hague.
Vojislav Seselj is on trial for the gravest war crimes committed in Croatia, Vojvodina and BH. After both parties rested their cases, the judgment was supposed to be delivered on 30 October 2013, but because the Trial Chamber was reshuffled, the judgment was postponed. The complications arose when Seselj's motion to disqualify Danish judge Frederik Harhoff was granted. Seselj alleged that the Danish judge was biased. Harhoff was replaced by Mandiaye Niang, a judge from Senegal, who has yet to be fully familiarized with the case in order to be able to join the other two judges for deliberations.