Home
AUTHENTICITY OF INTERCEPTED CONVERSATIONS CONTESTED
With the evidence of Nedo Blagojevic, Ratko Mladic's defense is trying to contest the authenticity of intercepted conversations involving VRS officers. The intercepts were recorded in July 1995 at the time of the Srebrenica operation. Blagojevic was the chief of communications in the VRS Drina Corps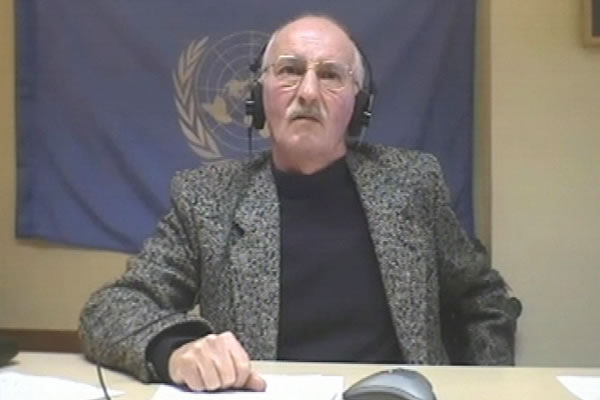 Nedo Blagojevic, defence witness at Rako Mladic trial
At the trial of Ratko Mladic, his defense called Nedo Blagojevic, who testified via video link. Blagojevic was the chief of communications in the VRS Drina Corps. Through his testimony, Mladic's defense is trying to contest the authenticity of intercepted conversations involving VRS officers. The conversations were intercepted by the BH Army surveillance service in July 1995, at the time of the Srebrenica operation.
In his statement to the defense and in the examination-in-chief, Blagojevic claimed that it was 'impossible' to intercept the Drina Corps communications. According to him, he personally installed anti-surveillance devices in the radio relay station in the VRS Drina Corps forward command post in Pribicevac. In Blagojevic's opinion, the site was additionally protected from surveillance by a very steep slope which was 100 to 150 meters long.
Prosecutor Peter McCloskey put it to the witness in the cross-examination that it was indeed possible to intercept radio communications. He showed Blagojevic documents in which Ratko Mladic, Drago Nikolic and Vujadin Popovic warn their subordinates that the enemy was taking advantage of the recklessness of the Serb communications officers to mount large-scale surveillance operations. Blagojevic replied that such things 'did happen from time to time'. According to the witness, there were some exceptions and he 'in part agree[s] with the prosecutor'. He did dismiss the suggestion that his statement to the defense was not true.
Blagojevic also noted that the jamming devices prevented the enemy from listening to both speakers at the same time. The prosecutor told the witness that a prosecution witness had testified that sometimes both speakers could be intercepted even when the communications were protected by jamming devices. It was possible, the prosecution witness claimed, when both speakers spoke loud enough so that the voice of one speaker would be audible from the headphones of the other.
The trial of Ratko Mladic continues on Tuesday, 27 January 2015.