Home
GENERAL MLADIC'S 'FLOWER GARDEN'
When General Mladic talked to his subordinates in the summer of 1991 (he recorded his communications himself), he told them 'Zadar is in a noose'. Mladic also noted that Kijevo would look like a 'flower garden' compared to what was in store for Zadar, Sibenik and Split. 'I started dealing with Dubrovnik' Mladic added in a conversation the prosecutor showed to Mladic's defense witness Slavisa Sabljic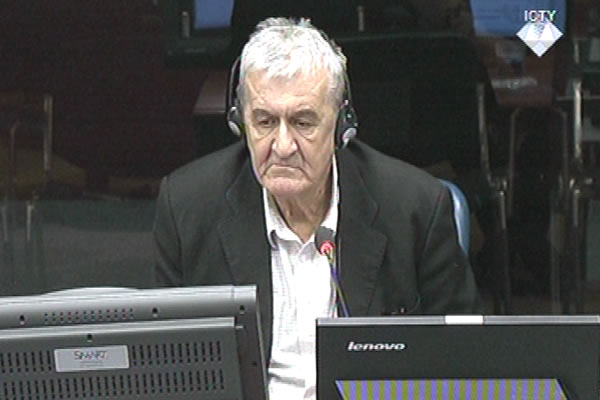 Slavisa Sabljic, defence witness at Rako Mladic trial
Slavisa Sabljic, a journalist from Banja Luka, testified at the trial of Ratko Mladic today. In 1991, Sabljic covered the outbreak of the war in Croatia for the Oslobođenje newspaper. In his written statement to the defense Sabljic said that he first met Mladic in Kijevo in August 1991, when the JNA troops entered the village in the Knin Krajina.
The JNA attack on Kijevo – described as 'liberation' by Sabljic – was the main topic of the cross-examination. Prosecutor Carolyn Edgerton showed the witness the judgment of a Croatian court convicting Mladic in absentia for the destruction of Kijevo, among other crimes. The judgment found that 1,600 shells had been fired in the attack on Kijevo, including 16 cluster bombs.
Sabljic said that he was in Kijevo when the Serb forces entered the village. Sabljic saw general Mladic greet and kiss Milan Martic. There was massive destruction in Kijevo but 'not as much as a month later', when he came to Kijevo again and saw that the village had been razed to the ground and looted in the meantime.
Prosecutor Edgerton then showed the witness three audio recordings from a collection seized in Mladic's house in Belgrade. When he talked to his subordinates (he recorded the conversations himself), Mladic said that 'Zadar is in a noose' after two days of JNA fire from sea, air and land. Mladic also remarked that Kijevo would look like a 'flower garden' compared to what was in store for Zadar, Sibenik and Split. 'I started dealing with Dubrovnik', Mladic mentioned in a conversation. 'I hear this now for the first time', the witness said about the recordings.
The witness was then confronted with Mladic's speech at the 16th session of the RS Assembly on 12 May 1992. Mladic said, 'I don't need an applause' for the VRS operations in the Sarajevo battlefield. 'I am doing it to avenge the bones of my dead comrades', Mladic said, adding that if the Serbs wanted to win the war in Sarajevo they should 'position 300 barrels' – meaning various artillery arms – and 'stud' them around the city. All that, prosecutor Edgerton argued, is proof that Mladic used identical methods to achieve his conquests in war.
The witness replied that those were Mladic's views, opinions and attitudes. 'Well now, I cannot tell you whether it is proper to deploy the artillery around a city. I am a journalist, I know how to write', Sabljic concluded.
Milorad Zoric began his evidence at the very end of the hearing. During the war, Zoric served in the information section in the VRS 2nd Krajina Corps and occasionally he worked as a cameraman for the Serb TV network and Reuters. Zoric will continue his evidence on Monday, 26 January 2015.