Home
'TRICK' TO PREVENT NATO STRIKES
Snjezan Lalovic, a journalist of the former Serb Radio Television, claims that his editor, not Ratko Mladic, ordered him to interview detained UN staff in May 1995. Lalovic confirmed nevertheless that the UN staff were interviewed to prevent further NATO strikes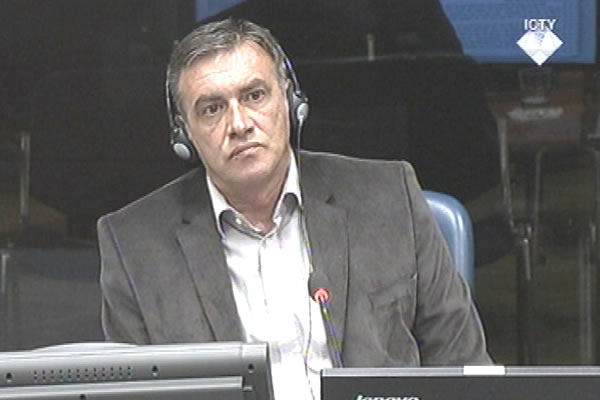 Snjezan Lalovic, defence witness at Rako Mladic trial
Snjezan Lalovic, a journalist who worked for the Serb Radio Television, gave evidence at the trial of Ratko Mladic. In late May 1995, Lalovic interviewed the UN staff held hostage by the Serb forces in Pale and Jahorina. The Serbs used the hostages as 'a human shield' to prevent NATO air strikes. 'Their lives depend on whether NATO will act', Lalovic concluded one of his reports.
Lalovic gave his statement to Mladic's defense 19 years after the 'hostage crisis' explaining that he had interviewed the UN members on the orders of his editor after the 'alarming news' about the NATO strikes. That day, Lalovic claimed, he had no contacts with Mladic at all and his name was never mentioned. In Lalovic's view, to say that the UN staff were filmed on Mladic's orders would be an 'elementary untruth'.
On 26 May 1995, he first went to the bridge in Pale, Lalovic recounted. There he interviewed two UN soldiers who were handcuffed to a fence. Two unidentified VRS soldiers were guarding the prisoners. Lalovic and his cameraman were then given a Jeep. Two other detained UN soldiers were inside the vehicle. Lalovic and the cameraman did what the soldiers told them: they took the hostages to Mount Jahorina and interviewed them next to a radar installation.
Prosecutor Camille Bibles reminded Lalovic in the cross-examination of what General Rupert Smith had said in his testimony. General Smith said that on 26 May 1995 Mladic told him twice to withdraw the order to attack Serb military targets. As Smith explained, Mladic told him that if he refused to comply, he would watch UN staff being killed on live TV, Mladic noted. In his replies to the prosecutor, Lalovic confirmed that the footage taken in Pale was a 'trick' whose purpose was to prevent NATO strikes.
In his statement to the defense Lalovic noted that no one abused the UN staff. When presiding judge Orie asked Lalovic how he would call the fact that the UN soldiers were handcuffed and chained to the Serb forces' military targets, Lalovic replied that he in fact wanted to say that there was no 'physical abuse'.
Judge Moloto noted thatLalovic 'went beyond' his job as a journalist, to say the least, when he acted on the orders of the two soldiers to take the detained UN staff to the top of theJahorinamountain and film them next to the radar installation.