Home
NEW WITNESS, OLD CLAIMS
In his evidence in Ratko Mladic's defense, former Sarajevo public prosecutor Rato Runjevac repeated the defense allegations that the court has heard before: the other side was to blame for the war in Bosnia and Herzegovina. Runjevac also confirmed the defense case that the independence referendum was unconstitutional, that a Serb wedding guest was murdered, that there were armed criminals in Sarajevo. After receiving threats, Runjevac went to Trebinje on 30 April 1992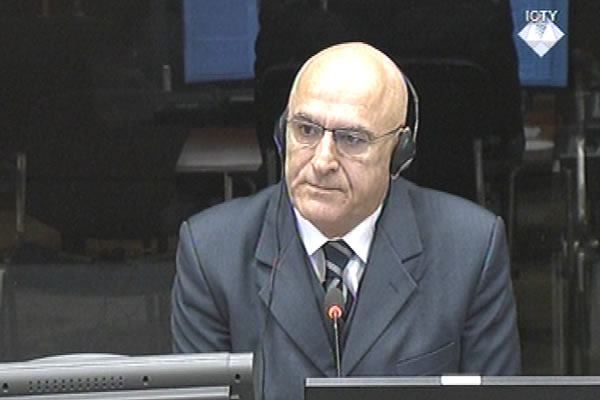 Rato Runjevac, defence witness at Rako Mladic trial
The trial of Ratko Mladic, former commander of the VRS Main Staff, continued with the testimony of Rato Runjevac. Before the war Runjevac was the public prosecutor in Sarajevo.
Through Runjevac's evidence the defense is trying to bolster its case that the Muslim side was to blame for the conflict in Bosnia and Herzegovina. Defense counsel Miodrag Stojanovic read out the summary of the witness's statement. In it Runjevac describes the ratcheting up of the tensions in the town and trouble caused by criminal groups headed by Juka Prazina and Celo Bajramovic in Sarajevo as well as the Sabanovic brothers in Visegrad.
In his statement, Runjevac also mentioned that the tensions reached a 'maximum level' when 'a rump Bosnia and Herzegovina parliament' passed the 'unconstitutional' decision to hold an independence referendum. The witness then decided to take his family out of the town. In early April 1992, Runjevac saw armed men in Sarajevo. The first victims fell, and the witness received threats from his neighbor, who told him he would be killed 'for no reason'. This prompted the witness to join his family in Trebinje in late April 1992. Because of this development,the witnesscouldn't resume his job asthe public prosecutor. On 21 May 1992, the witness was dismissed from his post.
In the brief cross-examination the prosecutor presented a document showing that Runjevac was fired after he failed to show up at work for a whole month. The witness replied that he didn't know the reasons for his dismissal. He 'intended to return after the 1st of May holiday'. His plans were thwarted, Runjevac explained, on 2 May 1992 when an 'all-out attack' was launched on Sarajevo.
The trial of Ratko Mladic continued with the evidence of Boro Tadic, former battalion commander in the VRS 6th Sana Brigade.