Home
PROSECUTION WANTS LIFE SENTENCE FOR KARADZIC
In the conclusion of the prosecution's final brief, published on Friday, the prosecution has asked the Trial Chamber to sentence Radovan Karadzic to life in prison. According to the prosecution, this is the only adequate punishment if the Trial Chamber finds the accused guilty of a 'substantial portion of the crimes' listed in any of the three main components of the indictment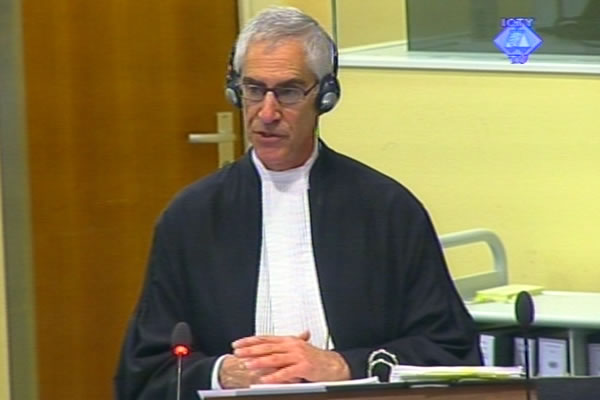 Alan Tieger, prosecutor at the Radovan Karadzic trial
The prosecution's final brief was published Friday afternoon at the Tribunal. In the conclusion, the prosecution has called on the Trial Chamber to sentence Radovan Karadzic to life in prison, provided, of course, that the Trial Chamber finds the accused guilty of a 'substantial portion of the crimes' listed in any of the three main components of the indictment, based on any of the modes of liability. The indictment against Karadzic charges him with the ethnic cleansing of large parts of BH that reached the scale of genocide in seven municipalities, the artillery and sniper terror campaign against Sarajevo and the genocide in Srebrenica.
If the accused is found guilty, the prosecution contends that life in prison is the only adequate sentence for him; he had been the most powerful person in Republika Srpska. Karadzic played the main role in establishing a wide range of bodies and forces he then used as tools of violence and destruction. The citizens usually expect the state bodies such as the police, army or municipal authorities to protect them. Under Karadzic's command and control, those bodies turned into instruments of terror against the Muslim and Croat population in the territories under the Serb control, for the citizens of Sarajevo and for the UN staff who were taken hostage, the prosecution noted in the final brief.
It has been announced that Radovan Karadzic's final brief will be disclosed on Monday, when the parties will begin presenting their closing arguments before the Tribunal. The closing arguments are expected to end on 7 October 2014.