Home
WITNESS: 'ENGENDERING CHAOS AND VILIFYING SERBS AS MUCH AS POSSIBLE'
A protected witness testifying in Mladic's defense contends that the BH Army was responsible for the sniper and artillery terror campaign in Sarajevo. Muslims opened fire on their own citizens to 'engender chaos and vilify Serbs as much as possible' and they 'staged' the Markale market incident, the witness claims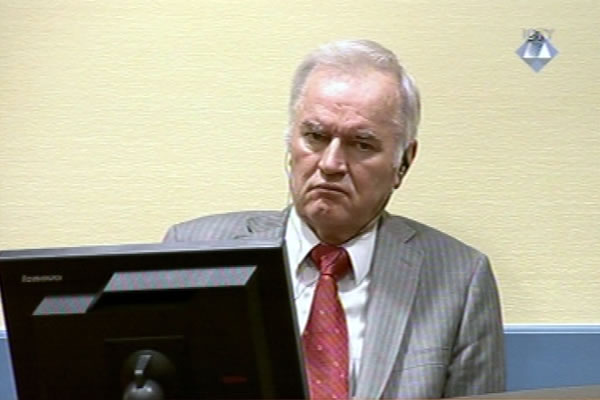 Ratko Mladic in the courtroom
In a bid to contest the prosecution evidence on the sniper and artillery terror campaign against Sarajevo and its citizens, Ratko Mladic's defense accused the BH Army of 'staging' the incidents listed in the indictment. According to Mladic's defense, the BH Army did that to shift the blame on the enemy side.
According to the evidence of a protected witness testifying under the pseudonym GRM 246, the Muslim snipers positioned near the National Museum and around the railway station opened fire on their own citizens to cause 'panic' whenever 'important guests', i.e. representatives of the international community, came to Sarajevo. The witness must have been involved in intelligence and security operations during the war. According to him, the Muslims' goal was to 'engender chaos and vilify the Serb side as much as possible'.
Mladic's defense counsel Ivetic brought up a report issued by the Serb authorities: in fact, it was written and signed by the witness's deputy. The report states that the Markale incident was 'staged'. The witness said he stood by every word in that document but didn't specify to which Markale incident the claims pertain. 'It was an event fatal for many, many citizens', the witness noted.
Based on the witness's answers to the judges' questions, the witness was referring to the Markale incident on 5 February 1994, when 66 Sarajevo citizens were killed, and about 140 wounded. The witness talked about the video footage of the aftermath; as he noted, a government counter-sabotage expert could be seen in a shot from the footage. According to the witness, the expert had the know-how necessary to put together the explosive device. Also, the witness added, the recording shows the bodies and people screaming, but 'the broken stalls and blood' are nowhere in sight.
The document produced by the Serb authorities states that before the victims' bodies were placed at the explosion site, they had been collected and put in 'refrigerated facilities'. This prompted the presiding judge Orie to ask the witness about the source of his information. The witness told him that they had learned it from people who had 'defected', or crossed to the Serb side. There was 'no other proof', the witness explained.
The witness continues his evidence tomorrow. His evidence will in all likelihood proceed in closed session, just as it did today.