Home
MLADIC OPPOSES TOMASICA EVIDENCE
In its response to the prosecution's motion to re-open its case to call evidence on the Tomasica mass grave near Prijedor, Ratko Mladic's defense notes that the accused would be prejudiced if the motion is granted. Mladic's defense recalls the Trial Chamber's decision in the case against Radovan Karadzic where a similar motion filed by the prosecution was denied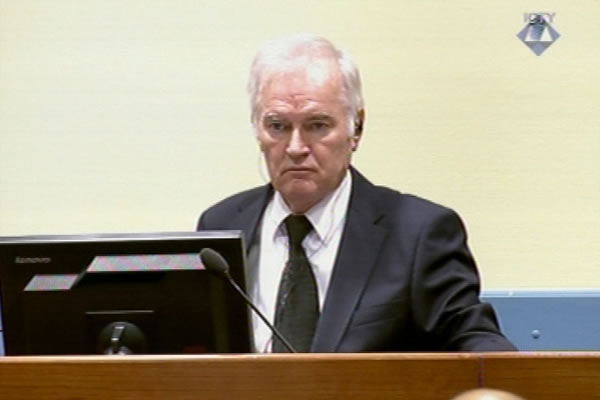 Ratko Mladic in the courtroom
Ratko Mladic's defense urged the judges to deny the prosecution's motion to re-open its case in order to call evidence on the Tomasica mass grave near Prijedor. In the response, Mladic's defense notes that if the prosecution is allowed to call new evidence in the middle of the defense case it will prejudice the accused.
In August 2014, the prosecution filed a motion seeking leave to call evidence on Tomasica. The evidence was to be taken in the form of 43 exhibits and the testimony of 13 witnesses. The witnesses include seven survivors and employees of the Ljubija mine and six experts. The grave was discovered in September 2013, in the middle of the prosecution case, and it took until June 2014 to collect all the evidence. The experts linked the exhumed bodies with the crimes committed at several locations listed in the indictment against Mladic: the killings in Kozarac, Hambarine, Brdo, Biscani and in nearby hamlets as well as the executions of prisoners in the prison camps of Keraterm and Omarska in Prijedor.
The defense recalls that almost a year passed from the discovery of the grave to the motion to re-open the case. The prosecution had to conduct its investigation 'without delay'. Furthermore, the defense estimates that the evidence on Tomasica would not extend the trial by two weeks; the prosecution had asked the judges for two weeks for the new evidence. As the defense would have to prepare and to answer the case, the trial would be extended by 14 weeks. Also, the defense lacks funds to pay the experts to respond to the prosecution's case.
According to the defense, the new information on Tomasica is irrelevant for Mladic's trial because it pertains to the counts in indictment for which the evidence has already been called in the prosecution's case. This is not new but 'supplementary' evidence. The defense adds that the accused did mention Tomasica in his war diary but the diary exonerates the army of the responsibility for the killings. In the diary, Mladic notes that the authorized bodies should investigate the matter. The Tomasica evidence may be important for prosecution in other cases, but it is not relevant for the case against Ratko Mladic, the defense concludes.
Consequently, in the defense's view, allowing the prosecution to call the evidence on Tomasica at this stage of the proceedings would be prejudicial to the accused and would cause unnecessary disruption and extension of the trial. The fact that the Trial Chamber hearing the case against Radovan Karadzic denied a similar motion in March 2014 should be an additional argument against granting the prosecution's motion, the defense argues.