Home
DID HADZIC THREATEN OR PROTECT INVESTIGATOR?
At the end of the cross-examination, the prosecutor put it to Hadzic he never intended to surrender voluntarily, in light of the seven years Hadzic had spent on the run and his conversation with an OTP investigator, when he said he 'will not hesitate to use the gun if someone tried to arrest' him. Today Hadzic said he was prepared to die to protect 'his guest'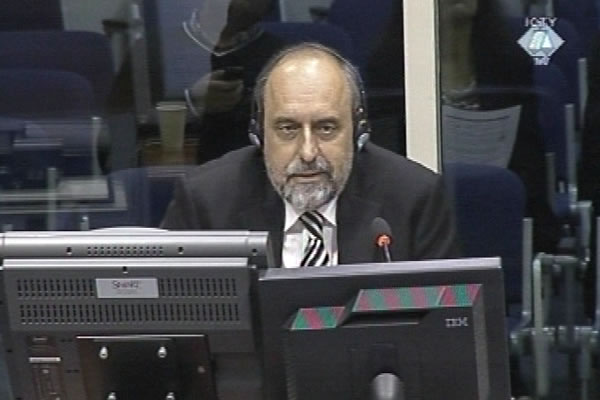 Goran Hadzic testify in his own defence
As the prosecutor brought to a close the cross-examination of Goran Hadzic, former prime minister of the SAO Eastern Slavonia, he referred to the seven years Hadzic had spent hiding from international justice: from 2004 when the indictment was issued to his arrest in 2011. Hadzic spoke earlier about the details of the motives for his flight from justice in closed session.
The prosecutor suggested that Hadzic 'never intended to surrender voluntarily' to the Tribunal. In 1997, Hadzic fled from Eastern Slavonia to Serbia when the indictment against Slavko Dokmanovic, former Vukovar mayor, was made public, the prosecutor noted. Hadzic answered he had a different reason to leave. According to Hadzic, he refused to 'be re-integrated' in Croatia and to have his children educated there. Hadzic disappeared from Serbia in 2004 when he was informed that the authorities had received a sealed indictment.
The prosecutor showed a memo written by an OTP investigator, Vladimir Dzuro, who interviewed Hadzic as a suspect in March 2002 in the Park Hotel in Novi Sad. Hadzic arrived with a security detail and a sidearm. He warned Dzuro he 'will not hesitate to use it if someone attempted to arrest' him. This, in the prosecutor's view, confirmed that Hadzic never intended to surrender voluntarily. In fact, Hadzic even threatened the investigator with force if he tried to arrest Hadzic.
Hadzic explained that Dzuro was a 'polite, urbane gentleman' who 'apologized for the questions he had asked' during the interview. Hadzic claimed that he wasn't afraid that a 'foreign civilian will arrest him' and that he didn't threaten Dzuro. 'I am not that stupid', Hadzic said. The security detail belonged to the owner of the hotel, the 'controversial businessman' Bata Kan-kan. Hadzic wore a pistol at all times, he noted, for his personal safety. In this case, he would have used in only if the investigator from The Hague had been in danger. 'Dzuro was a guest in my town, I was the host and in my country, hospitality is sacred', Hadzic said, adding that he was ready to 'leap and protect [Dzuro] by stepping between him and any danger'. 'It would be worse if he had been attacked than if I had been killed', Hadzic concluded.
The defense counsel re-examined the accused in order to clarify some of Hadzic's allegations. A substantial part of the cross-examination focused on Hadzic's relationship with Zeljko Raznatovic Arkan. The defense now tried to present their encounters as random or unimportant. Hadzic thus explained that he had been 'tricked' into meeting with Arkan and the Sky News reporter Van Lynden in an ice cream parlor in Belgrade. In fact, Hadzic was supposed to meet his friend there. Arkan introduced Hadzic to Van Lynden. Arkan said Van Lynden was a CIA agent who would provide arms to them. The accused found it strange because he couldn't fathom how a reporter could have access to arms.
Hadzic also contested the claim made by General Zivota Panic, that Hadzic 'had command over Arkan'. Hadzic argued that Arkan was under the JNA control and that Andrija Biorcevic, the Novi Sad Corps commander, awarded him a medal. Hadzic will continue answering the questions put to him by his defense counsel tomorrow.