Home
DEFENDING 'LIVING SPACE'
In his evidence in Ratko Mladic's defense, Luka Dragicevic, a war-time assistant commander in the VRS Sarajevo-Romanija Corps, claimed that the Serb troops in the Sarajevo area defended their 'living space'. According to Dragicevic, in the spring of 1995 the UN staff were not taken hostage. They were captured as prisoners of war, Dragicevic argued, because they 'went over to the enemy side'. Dragicevic agreed that tying prisoners of war to military facilities was a violation of international laws of war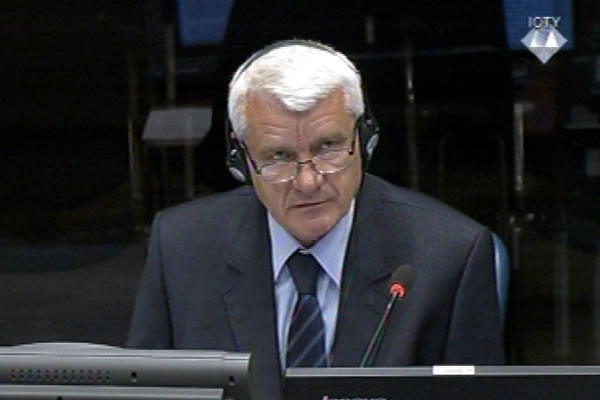 Luka Dragicevic, defence witness at Rako Mladic trial
The trial of the former VRS Main Staff commander Ratko Mladic continued with the testimony of Colonel Luka Dragicevic. From November 1994 to the end of the war, Dragicevic was an assistant commander in the VRS Sarajevo-Romanija Corps. In his statement to Mladic's defense Dragicevic stated that in the Sarajevo and Romanija region the SRK defended the 'living space' of the Serb people against the BH Army that was three times as strong.
The SRK opened fire only on enemy positions, unlike the BH Army that often fired from positions close to UNPROFOR to provoke the Serb side into responding, Dragicevic said in his statement to the defense. As for the Markale incident of 28 August 1995, Dragicevic claimed that the VRS Main Staff demanded that a joint commission be set up to investigate the incident, but the other side rejected the idea.
In his statement Dragicevic also talked about the incident in Dobrovoljacka Street in May 1992. The fact that the international forces did not respond to that incident convinced him that UNPROFOR had sided with the enemy and that the international community could not be trusted, Dragicevic explained.
In the first part of the cross-examination, prosecutor Alan Weber focused on the relationship between the VRS and soldiers serving in the international forces, noting that there was a hostage crisis in May and June 1995. The VRS arrested and held hostage more than 200 UN military observers and UNPROFOR staff to stop NATO air strikes.
Dragicevic testified about the hostage crisis in the cases against Dragomir Milosevic and Radovan Karadzic. In his statement to Karadzic's defense Dragicevic said that UN members were arrested on the orders of the VRS Main Staff. This prompted the prosecutor to ask Dragicevic today why he failed to mention this in his statement to Mladic's defense. The witness responded that it wasn't up to him: his statement depended on the questions he was asked.
As he answered the prosecutor's questions, Dragicevic said that he did not oppose the arrest of UN members because it was 'permitted' by the international laws of war as the UN had 'sided with the enemy'. Dragicevic nevertheless agreed with Judge Orie's suggestion that tying UN members to military facilities was against international law. According to Dragicevic, he learned about that detail from the media.
The cross-examination of Luka Dragicevic continues tomorrow.