Home
WHO TERRORIZED WHOM IN SARAJEVO
With the evidence of Slobodan Tusevljak, Ratko Mladic's defense is trying to prove that the prosecution had misrepresented the actual situation in Sarajevo. The defense contends that the real victims of terror were those citizens of Sarajevo who rejected the political platform of the then BH leadership. Tusevljak commanded a platoon in the 1st Sarajevo Motorized Brigade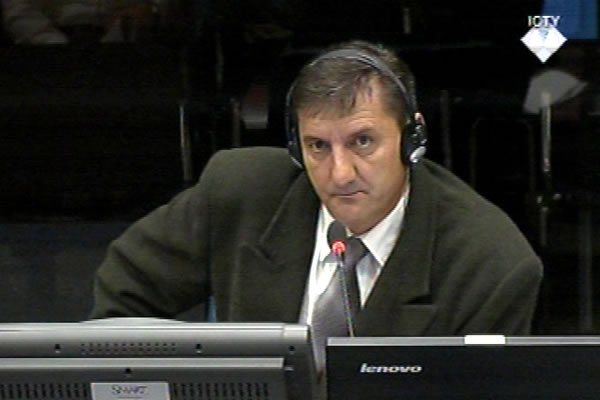 Slobodan Tusevljak, defence witness at Rako Mladic trial
Slobodan Tusevljak, commander of the 4th Platoon in the 1st Sarajevo Motorized Brigade, gave evidence at the trial of Ratko Mladic. Tusevljak's unit held the positions in Ozrenska Street, in the part of Sarajevo under the control of the Bosnian Serb Army. Like Mladic's previous defense witnesses, Tusevljak argued that he never received any orders to fire on civilian targets in Sarajevo from his superior command. Tusevljak claimed that his unit engaged in 'defensive' operations only.
Mladic's defense counsel Miodrag Stojanovic spent most of the examination-in-chief in a bid to explain why there were three versions of the witness's written statement; usually there is only one document. The judges were not pleased to see court time wasted because the defense was in a shambles. 'Discontent is a very mild term for what we think', presiding judge Orie remarked.
When the confusion about the statements was partially resolved, the defense continued highlighting the 'multi-ethnic' composition of Tusevljak's unit. There was one Muslim and several Croats in the unit, the defense stressed. According to the defense lawyer, the defense wants to show that the 'terror' campaign in Sarajevo was different from the way it was portrayed in the indictment. The defense maintains that the true victims of the terror campaign were the citizens who rejected the political platform of the then BH leadership.
The defense also tried to demonstrate that 230 Serb soldiers were killed in Ozrenska Street during the war. This prompted Judge Orie to say that with all due respect to the death of soldiers in combat is 'reality of war', not a crime. The fact that the defense has focused so much to the death of soldiers might be the result of its failure to grasp the very substance of Mladic's case, the judge warned.
In his statement, Tusevljak commented on the sniper incident in Ivana Krndelja Street on 3 September 1993. He claimed his platoon didn't have any sniper rifles. Replying to the judges, Tusevljak noted that he had no personal knowledge of the incident: he heard about it for the first time when he testified in Radovan Karadzic's defense.
Slobodan Tusevljak continues his evidence tomorrow morning.