Home
MLADIC TRIAL DIDN'T RESUME TODAY
For a second day in a row this week, General Ratko Mladic didn't appear in court because of stomach problems. The trial was adjourned because Mladic didn't give his permission for the trial to continue in his absence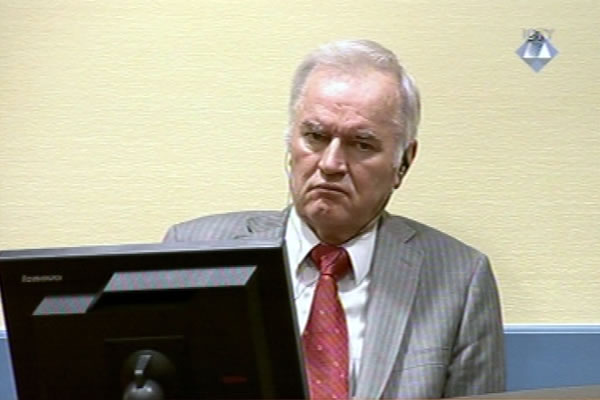 Ratko Mladic in the courtroom
Ratko Mladic's trial was adjourned yesterday because of his health problems. The trial didn't resume today, although it was slated to begin an hour later than usual. The parties didn't appear in court and the trial will be adjourned 'until further notice', as presiding judge Orie put it.
Yesterday, defense counsel Branko Lukic told the court that Mladic's health problems were not serious, as they were unrelated to his brain or heart. Mladic has stomach flu. As a precaution, he was transferred to the Bronovo, a top hospital in The Hague, but was then returned to the Detention Unit and is now receiving treatment in the Dutch prison hospital, which provides health care to the detainees in the Tribunal's Detention Unit.
The forms filled in by the accused and the Detention Unit nurse were disclosed to the media today. Yesterday and today, Mladic checked the columns indicating that he 'is not able to attend the trial because he is ill' and that he 'has discussed it with his lawyer'. However, Mladic didn't check the third column, to confirm that the trial could go on in his absence. The nurse, on the other hand, said that the accused would be examined by the Detention Unit medical doctor. The continuation of the trial will depend on the doctor's assessment.
A protected witness testifying under the pseudonym GRM 258 is expected to continue his evidence at Mladic's trial. The witness began his evidence on Friday in closed session. Yesterday it was announced in The Hague that two other defense witnesses are on hold at Ratko Mladic's trial. The former commander of the Bosnian Serb army Main Staff is charged with double genocide and other crimes against non-Serb civilians, prisoners of war and UN staff in the war in BH.