Home
MLADIC'S TRIAL ADJOURNED FOR STOMACH FLU
Ratko Mladic's defense case did not continue today after it was announced this morning that the accused was ill and that the trial would be adjourned until further notice. Mladic didn't give his permission for the trial to continue in his absence. Defense counsel Lukic told the court that Mladic's problems were unrelated to his heart or brain: he has stomach flu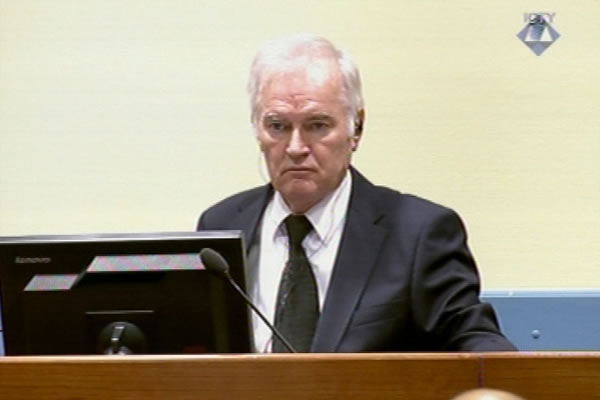 Ratko Mladic in the courtroom
A protected defense witness was expected to continue with his evidence in closed session at the trial of Ratko Mladic today. Instead, in a public hearing it was disclosed that the trial was adjourned until further notice. As Mladic's defense counsel Branko Lukic explained, the adjournment was caused by the health problems of the accused. Mladic was in Bronovo Hospital in The Hague the whole day yesterday. Now, Mladic is in the Detention Unit's infirmary awaiting a decision by the medical staff on further treatment.
Mladic's health problems do not have anything to do with his brain or heart. He has a stomach flu. In a telephone conversation Mladic told his defense lawyer he felt better today, but not well enough to appear in court.
The accused didn't give his permission for the trial to continue in his absence and presiding judge Alphons Orie said that under the circumstances the witness could not continue his evidence, begun on Friday.
Before rendering this decision, the Trial Chamber invited the prosecution to respond to an earlier motion filed by the defense to switch once again from the five-day working week to working four days a week. The defense argued that the change would allow the accused to get more rest. The defense initially refused to discuss the issue without the accused, but finally agreed to do it . After a brief discussion in closed session it was decided to drop the issue of the length of the working week for the time being.
Ratko Mladic has been in the Tribunal's Detention Unit since 31 May 2011. Upon his arrival, Mladic had some health problems, but now his heath has not been an issue for a while. At a hearing in June 2013, Mladic thanked everyone, 'from the cleaning ladies to the owner' of the Bronovo Hospital. They saved his life, Mladic then said, and 'snatched me from the jaws of death'. It is therefore to be expected that Mladic's stomach flu will be soon resolved.
The former commander of the Bosnian Serb Army Main Staff is charged with double genocide, one in several municipalities in BH in 1992 and the other in Srebrenica in 1995. Mladic is also on trial for the artillery and sniper terror campaign against the Sarajevo citizens and taking UN staff hostage.