Home
AMERICA ACQUITTED OF KARADZIC'S ACCUSATIONS
'There is no reason to believe that America was in contempt of court', Judge Moloto ruled, denying Radovan Karadzic's motion. Karadzic had petitioned the court to appoint a prosecutor amicus curiae to investigate if the US state officials had obstructed the administration of justice by purportedly monitoring the privileged telephone conversations between the accused and their legal representatives and of the Tribunal's judges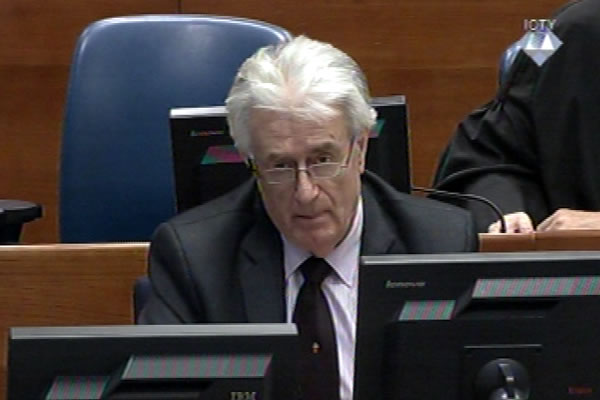 Radovan Karadzic in the courtroom
Judge Bakone Moloto dismissed Radovan Karadzic's motion to appoint a prosecutor amicus curiae who was supposed to investigate if the US state officials had obstructed the administration of justice at the Tribunal. Karadzic claimed that he had 'reasons to believe' that the USA committed contempt of court by monitoring the privileged telephone conversations between the accused and their representatives and those of the Tribunal's judges.
Karadzic filed his motion to the so-called Mechanism for the International Criminal Tribunals which has assumed some of the functions of the ICTY as of 1 July 2013. Karadzic noted that the surveillance of the conversations would place the US government in a more favorable position, as it would allow them to influence the outcome of the trials. Karadzic then addressed the US and British governments, demanding information about any surveillance but his request was rejected as 'irrelevant'. Finally, the former Republika Srpska president attached newspaper articles stating that the US National Security Agency monitored the conversations of the accused before the international courts and their lawyers.
Denying Karadzic's motion Judge Moloto noted that the surveillance of confidential or privileged communications of the parties to the proceedings did not necessarily amount to contempt of court, if there was no 'deliberate and willful' obstruction of the administration of justice. The South African judge also reminded Karadzic that the Tribunal's jurisdiction was establishing criminal responsibility of individuals, not states.
Assessing the evidence provided by Karadzic, Judge Moloto noted that it contained 'speculations' about the surveillance of privileged communications that didn't support the allegations of the obstruction of the administration of justice. The judge concluded that the allegations by the accused about the involvement of the US government in the Slobodan Milosevic case, the sanctions imposed on Karadzic's family and the information about the global surveillance made available by former US intelligence officer Edward Snowden were not relevant for the consideration of the question of whether there was any contempt of court.