Home
KARADZIC FEARS THAT AMERICA EAVESDROPS ON HIM IN THE HAGUE
The former Republika Srpska president has sent a request to the US authorities for the information on possible surveillance of his conversations with his legal advisor Peter Robinson. Karadzic hopes that it could help his in his motion to suspend or at least stay the proceedings against him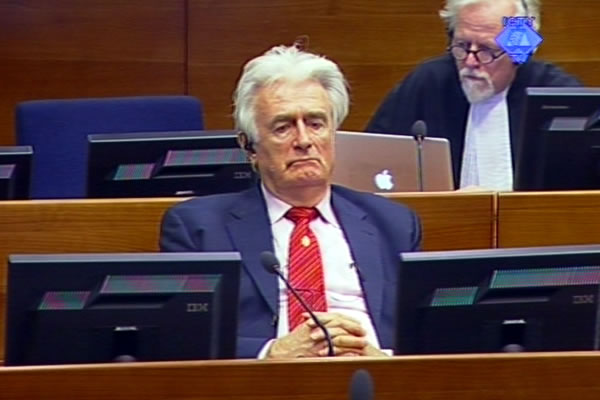 Radovan Karadzic in the courtroom
Radovan Karadzic fears that he is among the many Europeans whose telephone and electronic communications have been monitored in the large-scale monitoring operation implemented by the US National Security Agency. Karadzic has asked the Trial Chamber to issue an order to the US authorities to respond to his letter of 28 October 2013 in which he demanded that they 'surrender voluntarily' the information about the surveillance of his communications with his legal advisor.
Karadzic appended a letter to the US embassy in The Hague to his motion. In the letter, Karadzic asked the US authorities to disclose if they had intercepted any of his conversations after his arrival in the UN Detention Unit in Scheveningen on 30 July 2008. Also, Karadzic wanted them to tell him if his telephone or electronic communications with his legal advisor Peter Robinson had been monitored.
The information was important to him, Karadzic explained, because it would allow him to ask for legal measures such as 'suspending or staying the trial', the re-consideration of subpoenas and other motions submitted in the past years to the US government (the Holbrooke case and various requests for disclosure of documents). At the very least, it would allow Karadzic to call for a milder sentence as a consequence of the violation of his rights.
Karadzic advised the US authorities to contact his legal advisor Peter Robinson if they had any questions or needed any clarifications. Karadzic provided them Robinson's e-mail address, in the eventuality that his communications have not been monitored or if the spooks have failed to jot down the address even as they monitored them.
Radovan Karadzic is charged with double genocide and other crimes in BH from 1992 to 1995. The defense case continues on Monday with the evidence of new witnesses.