Home
PEOPLE MOVED OUT OF SANSKI MOST VOLUNTARILY, NOT BECAUSE THEY WERE FORCED TO
Karadzic's defense witness Mile Dobrijevic claims that no-one was expelled from Sanski Most. Muslims and Croats left voluntarily, and those who stayed enjoyed the same rights and freedoms as Serbs, Dobrijevic explained. The prosecutor noted that Croat and Muslim villages were attacked and civilians arrested and taken to prisons and detention camps, where they were interrogated by the very inspector Mile. As the prosecutor noted, there are witnesses who claim he too beat prisoners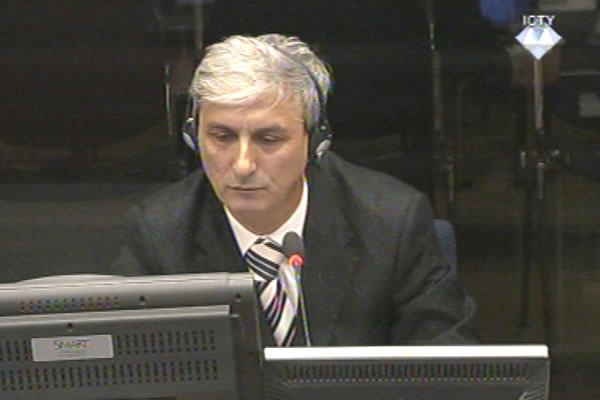 Mile Dobrijevic, witness at the Radovan Karadzic trial
Former crime police inspector in Sanski Most Mile Dobrijevic testified at the trial of Radovan Karadzic. In his statement to the defense Dobrijevic said that nobody was expelled from Sanski Most. Muslims and Croats left 'voluntarily', and those who stayed enjoyed the same rights and freedoms as Serbs. Some of them were arrested, but there was always a reason, Dobrijevic explained: for possession of illegal arms, involvement in the uprising and other crimes.
Prosecutor Lena Pelic from Kovin noted in the cross-examination that the Serb forces attacked the surrounding settlements of Mahala, Vrhpolje and Hrustovo. Quoting from a report of the Sanski Most Public Security Station, she said that the attacks resulted in the 'arrest of a large number of non-Serb civilians and large-scale destruction'. Dobrijevic said that the allegations were not correct because 'there was no need to capture civilians'. Also, Dobrijevic doubted the authenticity of the document he was shown.
Dobrijevic confirmed that he and some other inspectors interrogated the Muslims and Croats who were detained in the Hasan Kikic primary school, in the Betonirka company in Sanski Most, and later in Manjaca. Just a handful of them were civilians; for most of them, there was evidence of crimes, Dobrijevic said. Dobrijevic wasn't able to explain why they weren't prosecuted. He dismissed the prosecutor's suggestion he and other inspectors separated prisoners into three groups – 'politicians, extremists and the unwelcome'.
Prosecutor Pelic noted that many of the inhabitants of Sanski Most were taken to Manjaca, where the interrogations continued, with Dobrijevic's participation. The prosecutor confronted the witness with the evidence of Adil Draganovic and Hasan Jakupovic, who claimed that Dobrijevic too beat the prisoners. Dobrijevic purportedly asked Jakupovic to give him 15,000 German marks in return for his release. Dobrijevic did find Jakupovic a seat on the convoy that left for Travnik on 10 October 1992. Dobrijevic denied all that, saying those were 'terrible lies'.
Prosecutor Pelic also confronted the witness with a letter written by Danilusko Kajtaz, in which Kajtaz admitted that he was involved in the murder of 12 Muslims and that 'Mile and other inspectors know that'. Dobrijevic replied that he was not 'the right Mile'. His nickname was 'Mima', Dobrijevic insisted. When Dobrijevic said that Kajtaz had been tried for the murder of eight Croats in Skrljevita, the prosecutor noted that the trial did not begin until 2006.
The trial of Radovan Karadzic continues on Monday, 9 December 2013.