Home
MEJAKIC: WE WERE ORDERED TO GIVE 'OFFICIAL VERSION'
In his evidence in Radovan Karadzic's defense, former commander of the police in the Omarska prison camp claimed that 'isolated incidents' occurred in Omarska. Paramilitaries and other 'uninvited guests' were responsible for them, not the prison camp security. Confronted with his previous statement that only two prisoners had died in the prison camp, of 'natural causes' Mejakic admitted that he and the other officials were ordered to give only the 'official version' to the public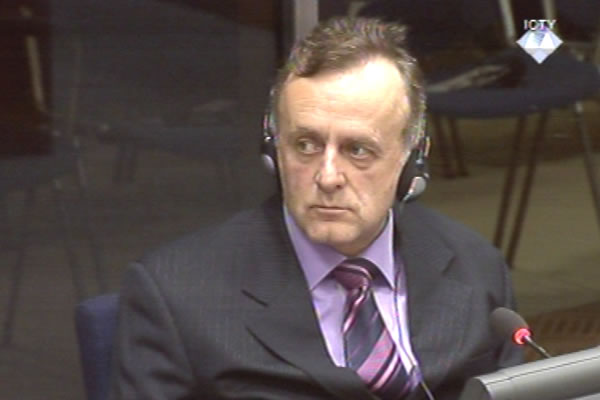 Zeljko Mejakic, witness at the Radovan Karadzic trial
The defense case continued at the trial of Radovan Karadzic with the evidence of Zeljko Mejakic, former security commander in the Omarska prison camp near Prijedor. Mejakic is currently serving a 21-year prison sentence. He was convicted by the State Court of Bosnia and Herzegovina of murder, torture, rape and other inhumane acts against prisoners in Omarska from June to August 1992.
In his statement to Karadzic's defense, Mejakic said that he never heard any of the Serb leaders plan the ethnic cleansing of non-Serbs. In late May 1992, about 3,500 armed 'extremists' resisted the VRS in the Prijedor area. Many of them later 'changed into civilian clothes', Mejakic claimed.
According to Mejakic, about 3,400 persons passed through the 'investigation center' in Omarska. The Center was established on the orders of Simo Drljaca, the Prijedor Public Security Station chief. The prisoners were interrogated and then about half of them were transferred to the POW camp in Manjaca, and the rest went to what was called 'the collection center' in Trnopolje to be released. There were 'irregularities' or 'isolated incidents' in Omarska but the 'problems' were caused by the paramilitaries and other 'visitors' who could enter the prison facilities at will, Mejakic said.
In the cross-examination, prosecutor Ann Sutherland confronted Mejakic with the information that more than 300 persons whose bodies were later recovered from the Lisac mass graves in Bosanska Krupa, the Stari Kevljani and Jekarina Kosa mass graves in Prijedor were 'last seen alive' in Omarska. Many of them were in the 'first category of prisoners', referred by some witnesses as the 'icing list'. The prosecutor noted that the Tomasica mine, where the largest mass grave in BH has recently been discovered, is only about 15 km from Omarska.
As Mejakic explained, the death of so many people has 'unjustifiably' been linked with Omarska. In Mejakic's view, the security in Omarska isn't responsible for those crimes because the prisoners were taken out of the camp 'alive'. They were then killed somewhere else, in places hundreds of kilometers from Omarska. This is what happened to the men exhumed from the Lisac grave in Bosanska Krupa.
Mejakic said that he never denied that murders happened in the prison camp. This prompted the prosecutor to confront the witness with his statement to the media that only two men actually died in Omarska, of 'natural causes'. 'We were all ordered to give the official version of the events in Omarska presented in the report of the Banja Luka police commission', Mejakic clarified. The two of the four members in the commission were inspectors who had been interrogating the prisoners in Omarska, the prosecutor said, adding that it was 'like letting the fox guard the chicken coop'.
Radovan Karadzic's trial continues on Tuesday, 3 December 2013, with the evidence of a new defense witness.