Home
PRISONERS NEVER ARRIVED IN BATKOVIC CAMP
In his second evidence this week, Colonel Milenko Todorovic confirms that the VRS Main Staff first announced and then called off the arrival of 1,000 to 1,200 people captured after the fall of Srebrenica in the Batkovic camp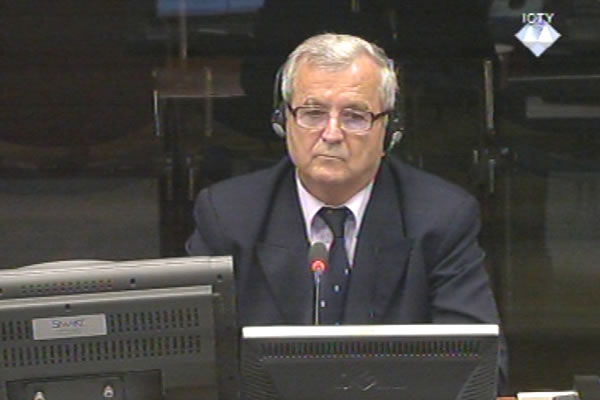 Milenko Todorovic, witness at the Radovan Karadzic trial
After he spent two days testifying at Ratko Mladic's trial, Colonel Milenko Todorovic moved from Courtroom 3 to Courtroom 1 to testify at the trial of the former Republika Srpska president Radovan Karadzic.
According to the summary of Todorovic's evidence in the Zdravko Tolimir case, read out by Karadzic in court today, the former security and intelligence chief in the East Bosnia Corps was tasked after the fall of Srebrenica in July 1995 with relaying to his commander an order from the VRS Main Staff. The Corps was to prepare the Batkovic camp for the arrival of 1,000 to 1,200 prisoners. Todorovic received the order from Zdravko Tolimir, who was Mladic's assistant for security and intelligence at the time. The prisoners never came. After a while, Tolimir told Todorovic that the whole thing had been called off and to stop preparing for their arrival. According to the witness, '24 hours, or as many as two to three days' passed between the issuance of the order and its recall.
In his previous statements, Todorovic said the prisoners were to be exchanged for the captured VRS soldiers whose parents pressured the East Bosnia Corps command to do it. In response to Karadzic's questions on the topic, Todorovic explained that the exchanges were organized by commissions at Corps level, when there were prisoners to be exchanged, at the proposal of the warring sides. He confirmed there were 'impromptu' exchanges, organized by 'irresponsible' individuals.
Prosecutor Edgerton highlighted the discrepancies between the witness's statement to the OTP investigators from February 2010, his evidence at the Tolimir trial in April 2011 and at Ratko Mladic's trial earlier this week. The discrepancies concern the date when the cable was received and when the phone call with Tolimir took place. Since it is Karadzic's case that the political and military leaders in Republika Srpska were at loggerheads, the prosecutor reminded the witness that he had said earlier that Mladic was 'moderate', that he did his military job 'in a disciplined manner' and 'did not have any intentions of carrying out a military coup'.
In response to Judge Kwon's question, Todorovic confirmed that when he was told the prisoners would not come to Batkovic, he was ordered by his commander Simic to send a dozen military police officers and some trucks to take 22 prisoners off from the Zvornik Brigade. The brigade commander Vinko Pandurevic confirmed "he had prisoners and could capture more BH Army soldiers retreating towards Tuzla'.
Karadzic's trial will continue tomorrow with the evidence of Zeljko Mejakic, former Omarska camp commander, who was sentenced by the BH State Court to 21 years in prison.