Home
SARAJEVO: NO PLACE WAS SAFE
In his testimony at Ratko Mladic's trial, BBC war correspondent from Sarajevo Jeremy Bowen said artillery and sniper attacks on civilians 'were run-of-the-mill scenes' in the city. 'No place was safe' in the city, Bowen added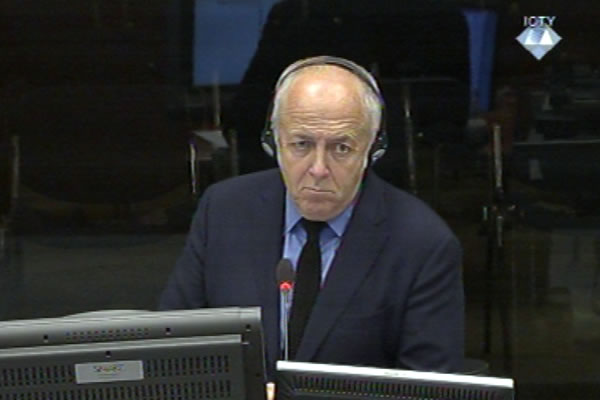 Jeremy Bowen, witness at the Ratko Mladic trial
After prosecution expert Andras Riedlmayer finished his testimony at the trial of Ratko Mladic, the prosecution called Jeremy Bowen, former BBC correspondent in Sarajevo. He has already testified three times in The Hague. This is Bowen's last testimony before the Tribunal, as was Riedlmayer's.
Prosecutor Edward Jeremy read out the summary of Bowen's statement. In the summary, Bowen says that he was in Sarajevo for most of the war. In Bowen's words, 'no place was safe' in the city, the civilians could not find shelter anywhere against the shelling and sniper attacks from the Bosnian Serb positions. Bowen visited central, eastern and western Bosnia, and concluded that ethnic cleansing was a 'constant feature of the conflict'. Bowen noticed that when Muslim villages were cleansed, women and children were expelled, and men and youths were taken to prison camps.
Several TV reports Bowen made for BBC during the war were played today in court. The first report, from July 1992, showed the shelling of Hotel Europa in Sarajevo, where refugees from other places in BH were staying at the time. The same footage showed the evacuation of Serb civilians from the city. According to Bowen, as the war continued, the Serb civilians came under increasing pressure.
The next video showed an artillery attack on children and other civilians in the Sarajevo cemetery at the funeral of Vedrana Glavas, a two-year old girl. Glavas and another child were killed in an earlier sniper attack on a bus transporting children from an orphanage. The children were being evacuated from the besieged city. The prosecution also played Bowen's TV report showing the aftermath of an artillery attack on civilians at a football match on Dobrinja. Bowen also described several sniper attacks, remarking that they were 'run-of-the-mill scenes' throughout the war.
The witness said that the attacks obviously came from the territory under the Serb control, although he admitted that he was aware of the 'conspiracy theories' according to which the BH Army shelled Sarajevo to force the international community to act against the Serbs. 'As an independent journalist I wouldn't hesitate a moment and would file my report about self-shelling, but it simply never happened', Bowen said.
The British journalist will continue his evidence tomorrow.