Home
CONTESTING SARAJEVO INCIDENTS
Ratko Mladic's defense continued cross-examining OTP investigator Barry Hogan, in a bid to contest Hogan's reconstructions of and findings related to the sniper and artillery incidents in Sarajevo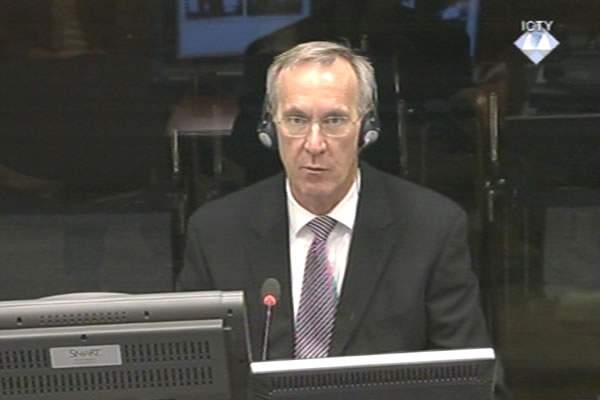 Barry Hogan, witness at the Ratko Mladic trial
The defense of the former VRS Main Staff commander Ratko Mladic tried to contest the findings of OTP investigator Barry Hogan about the sniper and artillery incidents in Sarajevo. Hogan used a GPS device to determine accurately the coordinates of the locations and to reconstruct the incidents in which Sarajevo civilians were killed.
Hogan tested the theory put forward by Russian colonel Andrei Demurenko who claimed that the shell that caused the Markale town market massacre on 28 August 1995 had not been fired from the VRS positions. Hogan visited the same locations as the Russian colonel. Unlike Demurenko who claimed that the positions were 'steep and rocky', unsuitable for mortars, Hogan saw that the locations were 'even and stable'.
In a bid to contest the accuracy of Hogan's measurements Mladic's defense counsel Branko Lukic argued that Hogan went to wrong positions in the territory under the VRS control. At the same time, defense counsel Lukic claimed that there were other locations, controlled by the BH Army, such as the village of Studenkovici that could have been the point of origin of the fatal shell.
The defense used similar arguments to contest Hogan's conclusions about other artillery and sniper incidents listed in the indictment against Mladic. Defense counsel Lukic tried to prove that Hogan failed to establish the correct location of the incident that occurred on 1 June 1993, when shells fell on a football pitch in Dobrinja just as a match was in progress. The defense counsel argued that the shells hit the football pitch and not the nearby parking lot where Hogan did his reconstruction of the incident.
Defense counsel Lukic also tried to challenge the validity of the information contained in two BH Army documents related to the VRS observation post in the church in Veljani. As the prosecution alleges, the shots that killed Fatima Zametica in Dobrinja on 11 July 1993 when she tried to draw water from the river were fired from the Veljani church. The defense counsel put it to the witness that an anti-aircraft machine gun couldn't have been set in the church bell tower, as one of the documents alleged, as it was too big to fit in there.
The defense also tried to prove that the sniper bullets that killed so many Sarajevo civilians could have been fired from the BH Army positions. This included the bullet that killed three-year old Anisa Pita on the threshold of her home in Sirokaca on 13 December 1992. Defense counsel Lukic put it to the witness that the bullet could have been fired from the area under the BH Army control, from a cemetery located between the scene of the incident and the VRS position on Baba Stijena.
Ratko Mladic's trial continues on Thursday, 3 October 2013.