Home
DRAZEN ERDEMOVIC TESTIFIES FOR THE TENTH TIME
A protected witness who was an operator in the Bosnian State Security Service completed his evidence at the trial of Ratko Mladic. During the war, the Bosnian secret service intercepted the conversations between Bosnian Serb civilian and military leaders. The prosecution then called its next witness, Drazen Erdemovic, former member of the VRS 10th Sabotage Detachment. Erdemovic had pleaded guilty to the execution of more than 1,000 Muslims at the Branjevo farm on 16 July 1995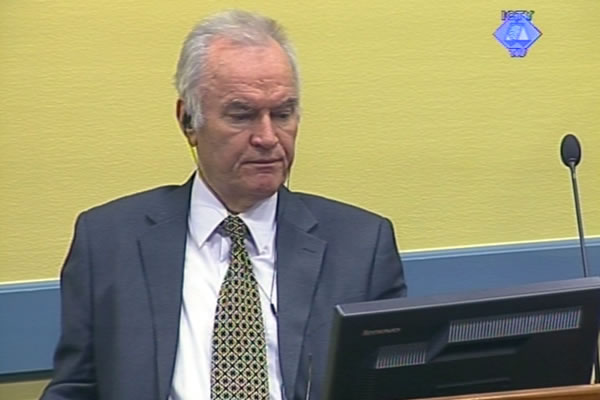 Ratko Mladic in the courtroom
An operator who worked for the Bosnian State Security Service completed his evidence at the trial of the former VRS Main Staff commander, Ratko Mladic. During the war, the State Security Service intercepted and recorded the communications between Bosnian Serb civilian and military leaders. Witness RM 316 and his colleagues were able to recognize on several occasions the voice of General Mladic among the participants in the conversations intercepted during the VRS Srebrenica operation.
In his cross-examination, the witness confirmed that the operators never mentioned Mladic's name in the reports on intercepted conversations unless they were sure that they had identified him as one of the speakers. The witness noted that Mladic very often called his interlocutors 'bro'.
After Witness RM 316 completed his evidence, the prosecution called a former member of the VRS 10th Sabotage Detachment, Drazen Erdemovic. Erdemovic took part in the executions of the captured Srebrenica Muslims at the Branjevo farm on 16 July 1995. According to the summary of Erdemovic's statement, a 'big, tall and grey-haired' VRS lieutenant colonel ordered the soldiers to execute the prisoners. Erdemovic claims he doesn't remember the officer's name.
Erdemovic and seven other members of the 10th Sabotage Detachment teamed up with a group of VRS soldiers from Bratunac to execute the prisoners at the Branjevo farm. The executions lasted from 10am to 4pm. During that time, Erdemovic estimates that they killed about 1,000 or 1,200 persons. In 1996, Erdemovic pleaded guilty to the crime and was sentenced to five years in prison. Erdemovic served the sentence in a prison in Norway. After his release, Erdemovic and his family were put in a witness protection program. Erdemovic was given a new identity and a new place of residence. Erdemovic has now testified 10 times before the Tribunal. His evidence at the Mladic trial continues tomorrow.