Home
'SOLDIERS' ARMED WITH PARING KNIVES
In the cross-examination of Dutch colonel Vincentus Egbers, Ratko Mladic's defense tried to prove that the men detained after the fall of Srebrenica in the 'white house' in Potocari could be considered soldiers. Many of them had had knives on their persons, the defense counsels argued. The witness explained that these were pocketknives, commonly used to 'pare apples'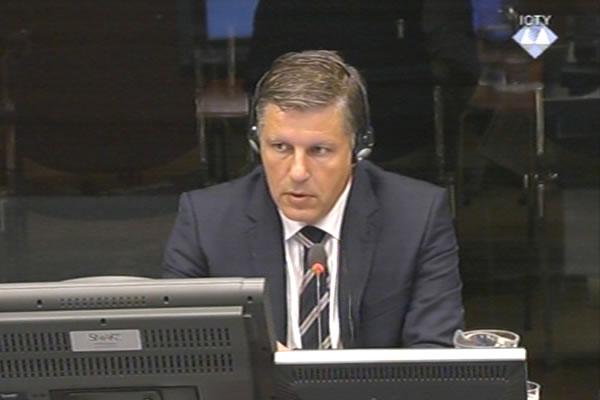 Vincentus Egbers, witness at the Ratko Mladic trial
In July 1995, Dutch colonel Vincentus Egbers was a platoon commander in the UN Dutch Battalion stationed in the Srebrenica enclave. In his evidence at the trial of Ratko Mladic Egbers said that the people of Bratunac 'cheered' when a convoy of buses with women and children from Srebrenica passed through the town. They gathered along the road, shouted and hurled various objects at the buses.
In July 1995, Egbers was a second lieutenant. He has already testified about what he saw and went through in Srebrenica in July 1995 at the trials of Radislav Krstic, the Srebrenica Seven and Zdravko Tolimir. In his evidence Egbers said that in the morning of 12 July 1995 he entered the 'white house' in Potocari, where the men who had been separated from women and children were detained.
Today Egbers said that about 150 men from the 'white house' were put on three buses for Bratunac on 12 July 1995. Just before the buses left Potocari, the men signaled to him what, in their view would happen to them: they made a slashing gesture from left to right across their throats. The witness said that at that moment he didn't believe it would happen; he was confident that the men would be taken to Kladanj.
That same day, Egbers escorted a convoy with women and children leave Potocari for Kladanj. As he passed through Nova Kasaba, Egbers noticed a large group of detained men in a football field. The prisoners were on their knees with their hands behind head. On his return from Kladanj on 13 July 1995 the Serb troops stopped the witness in Nova Kasaba. The Serb soldiers confiscated his vehicle, the equipment and prevented him from returning to Potocari.
Egbers's 'host', Major Zoran Malinic explained that Egbers was detained 'for security reasons'. When Egbers complained about the behavior of Serb soldiers, Malinic replied that Ljubisa Beara was in charge of that zone. On 14 July 1995, Egbers personally gave Beara the list of complaints. A couple of hours later, Malinic told Egbers that he could return to Potocari.
In his cross-examination, Mladic's defense counsel Branko Lukic strove to prove that it was legitimate to separate the men from the women and children in Potocari, citing the Geneva Convention which recommends the separation under some circumstances. Lukic put it to the witness that it could not be ascertained at first glance if the men in Potocari were soldiers or civilians. They wore civilian clothes and didn't carry arms.
Lukic tried to prove that the men detained in the 'white house' could rightly be considered as soldiers since Egbers said that he had seen a lot of knives among the discarded things in front of the 'white house'. The witness explained that the knives were pocketknives commonly used to 'pare apples'.
As the defense counsel also argued, Egbers wrote in a form he most probably filled immediately after leaving Srebrenica that he and other Dutch soldiers had been Zoran Malinic's guests in Nova Kasaba. Egbers confirmed that Malinic was a hospitable man. It was a strange situation: 'you are held here and they won't let you leave, yet they want to play chess with you, dine with you and talk about the situation in the country', the witness explained.