Home
AKASHI SEEKS TO SHUN THE PUBLIC
The former UN Secretary General special envoy's request to testify in closed session was denied by the judges. Akashi asked them to allow him to testify at Radovan Karadzic's trial in closed session because he was unhappy with the media coverage of his statements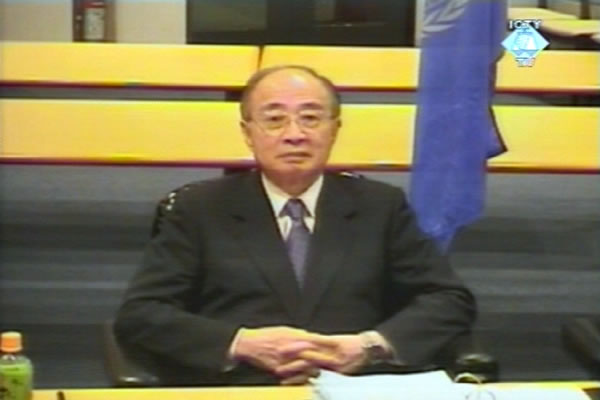 Yasushi Akashi, svjedoči video linkom u odbranu Ante Gotovine
Yasushi Akashi, former special envoy of the UN Secretary General, will testify in public session at the trial of Radovan Karadzic, Judge Kwon's Trial Chamber decided today. Once again, Akashi has been called by the defense. For his first testimony before the Tribunal in The Hague in September 2009, he was called by the defense of Croatian general Ante Gotovina.
The Japanese diplomat submitted a request through the accused Karadzic on 10 April 2013 to be granted permission to testify in closed session. In the request, Akashi argued that he didn't seek to testify closed session 'for any special security reasons' but because of 'the negative experience with the media coverage that often distorts the real intent' of his statements. In Akashi's opinion, giving evidence in closed session would allow him to 'completely and sincerely express his views' far from the eyes and ears of the public. The prosecution opposed the request, saying it was against the Tribunal's rules.
In their decision, the judges recall the provision in the Rules that testimony may proceed in closed session only if there is 'objective risk for the security of the witness or his family' as a result of his evidence in The Hague. This is not the case with Akashi. The fact that Akashi was not happy with the way the media interpreted his statements in the past is not good enough reason to grant Akashi's wish to testify behind closed doors; it is an 'extraordinary measure'. Finally, the Trial Chamber recalled that Akashi had already testified in public against Gotovina, Cermak and Markac. The situation has not changed in the meantime, the judges remarked.
The former special envoy of the UN Secretary General is expected to appear in the witness stand at Karadzic's trial next Wednesday. The former Republika Srpska president is charged with genocide and other crimes committed in the war in BH.