Home
GENERAL GALIC BEGINS TESTIMONY IN KARADZIC'S DEFENSE
General Stanislav Galic is trying to defend Radovan Karadzic using the same arguments he had used at his trial, which ended with a life sentence. Galic contends that the Bosnian Serb army only responded to the attacks from Sarajevo and tried hard not to go overboard and endanger the civilians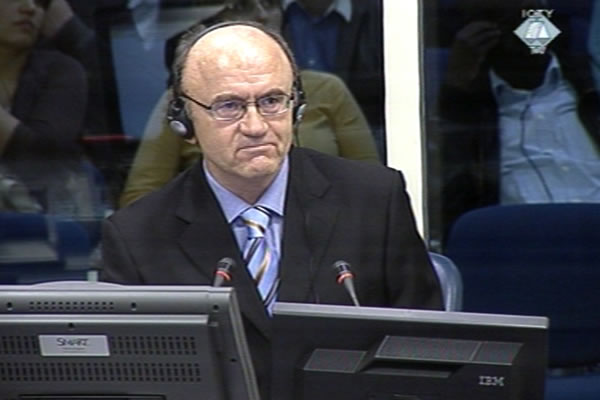 Stanislav Galic, defence witness of Radovan Karadzic
'My current occupation is a convict, and at the same time I am a VRS lieutenant general and a Serbian Army major general'. This is how the former Sarajevo-Romanija Corps commander Stanislav Galic introduced himself at the beginning of his evidence in Radovan Karadzic's defense. Karadzic is his wartime commander-in-chief. General Galic was convicted of the artillery and sniper terror campaign against the Sarajevo citizens, and is serving his life sentence in a prison in Freiburg.
On the first day of his examination-in-chief, the witness tried hard to convince the Trial Chamber that the Bosnian Serb army around Sarajevo was inferior to the BH Army. Galic claimed that each Sarajevo-Romanija Corps brigade was surrounded by several 'enemy' brigades. Moreover, the Bosnian Serb army held lower ground: BH Army units held the elevations such as Mojmilo, Zuc, Colina Kapa and Debelo Brdo, Galic said.
Describing the BH Army structure and equipment in Sarajevo, the witness said they had 14 brigades with 2,000 soldiers. They had infantry and artillery weapons and a total of 500 snipers. The Bosnian Serb army faced them with its ill-trained soldiers, unprepared for urban warfare. Galic explicitly claimed that his corps was under constant attacks from the city and that he was forced to respond 'adequately': to sniper attacks with snipers and to mortar attacks with mortars.
When the Bosnian Serbs responded, they always made sure not to target the civilians, Galic said. This task was often made more difficult by the inability to distinguish between civilian and military targets, Galic explained. The BH Army's area of responsibility covered the entire city. The headquarters of 14 brigades and their subordinated battalions and companies were located in civilian areas, Galic claimed. Serb positions were regularly targeted from positions near civilian facilities like schools, kindergartens and hospitals. According to Galic, it was not easy to distinguish civilians and soldiers because BH Army troops sometimes walked around the city 'in civilian clothes without arms'.
Despite these difficulties, the Serb side made every effort to observe the Geneva conventions and all the additional protocols on warfare, on the orders of Karadzic and Mladic, General Galic claimed. Because his units always responded 'proportionately' and cautiously, there were no massive civilian casualties in Sarajevo, Galic said, adding that 'civilian casualties were proportionate to the military targets' that were attacked. Galic proffered these explanations in response to the prosecution's case that the Bosnian Serb army failed to observe two key principles as it attacked Sarajevo's civilian areas: distinguishing between military and civilian targets and proportional response to the enemy fire from the city. The prosecution's case was accepted by the judges at his trial and in the judgment handed down to Dragomir Milosevic, who succeeded him as the corps commander.
General Galic's examination-in-chief continues tomorrow. It will probably continue throughout this week. Earlier this year, Dragomir Milosevic testified in Karadzic's defense. In 1994, Milosevic took over from Galic as the Sarajevo-Romanija Corps commander, and was sentenced to 29 years in prison for his part in the terror campaign against the citizens of Sarajevo.