Home
NEW BREAK AT MLADIC'S TRIAL
Ratko Mladic didn't appear in the courtroom citing health reasons. The Trial Chamber ordered a medical examination of the accused and adjourned the trial until Tuesday 9 April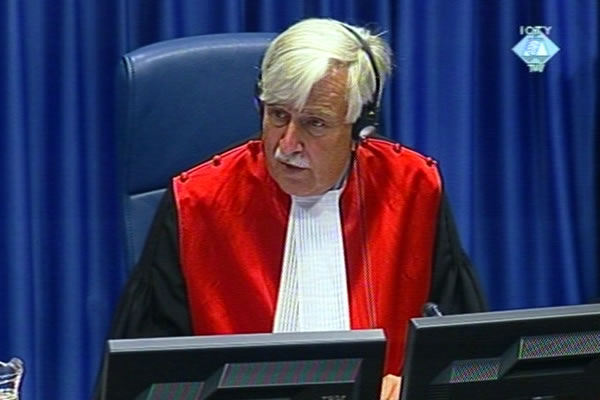 Alphons Orie, sudija Tribunala
After a five-week break, the trial of Ratko Mladic continued in the absence of the accused. Presiding judge Orie announced that the Trial Chamber had been informed the 'accused didn't feel well enough to attend the trial'. Judge Orie asked Mladic's defense to provide additional information.
Defense counsel Branko Lukic was unable to offer more details about the reasons for his client's absence. Lukic said that he too had merely been told that Mladic 'wasn't feeling well'. The Trial Chamber consequently ordered that the accused be examined by the medical personnel in the Detention Unit, and their report to be submitted to the judges immediately.
Although Mladic didn't waive his right to attend the trial, the defense agreed that the trial could continue with a discussion of administrative issues. The presiding judge didn't rule out the possibility that the trial might continue in Mladic's absence if the medical report should indicate there were no legitimate medical reasons for his absence from the courtroom.
The initial information about the health of the accused reached the Trial Chamber after a short while, indicating that early in the morning Mladic had gone to a hospital for a scheduled examination. In the course of the exam, Mladic underwent a 'minor invasive intervention'. The specialist doctor that attended to the patient proposed a 'day of rest' for the patient, Judge Orie indicated. The judges have nevertheless concluded they needed to see a report from Dr Falke from the Detention Unit, and decided to postpone the trial until Tuesday 9 April.
Jean-Rene Ruez was scheduled to start his evidence at the trial of the former VRS Main Staff commander who faces charges of genocide and other crimes in BH from 1992 to 1995. Ruez headed the OTP Srebrenica Investigation from 1995 to 2001. With Ruez's testimony, the prosecution opens the final part of its case which will focus on the genocide in Srebrenica. In this part of its case the prosecution will try to prove that Mladic was responsible for the expulsion of about 25,000 women and children and the execution of more than 7,000 men captured after the fall of the enclave in July 1995.
Several members of the Mothers of Srebrenica Association appeared in the public gallery: they wanted to use the start of the Srebrenica stage in the prosecution's case to remind the accused, the Tribunal and the public once again of the victims of the crimes in the summer of 1995.