Home
'APPROPRATE RESPONSE' TO NON-EXISTENT FIRE
According to a VRS Main Staff document, on 7 April 1995 the VRS 'responded appropriately' to 'very intense fire' opened by the BH Army on the Famos factory in Ilidza. The VRS fired a 250-kg modified air bomb on the center of Hrasnica. Norwegian major Thorbjorn Overgard said in his evidence at the trial of Ratko Mladic that on that day there was no fire on Ilidza from Hrasnica. On the contrary, it was 'a normal and quiet morning', Overgard said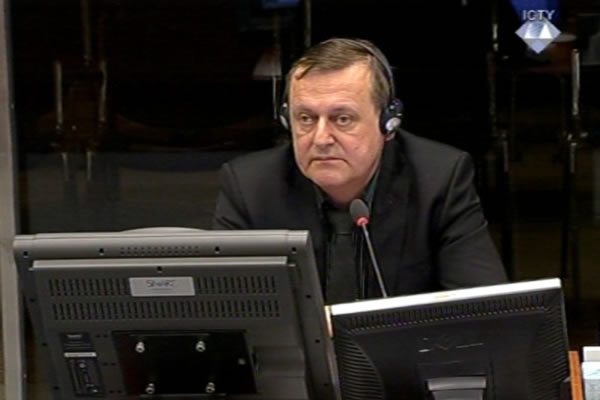 Thorbjorn Overgard, witness at the Ratko Mladic trial
The indictment against Ratko Mladic alleges that on 7 April 1995, the VRS fired a modified air bomb on the Sarajevo settlement of Hrasnica, killing one person and wounding three. Norwegian major Thorbjorn Overgard took part in the investigation as a UN military observer; the investigators concluded that the projectile that hit Hrasnica had been launched from the direction of the Serb positions in Ilidza.
At the time when the incident occurred, Overgard was in a house where the military observers were billeted. 'It sounded as if a large plane was arriving', the witness described the sound he heard immediately before the explosion. The house that was about 200 meters from the UN observation point was razed to the ground. A joint investigation with the local authorities concluded that the projectile had been fired from the Famos Factory perimeter in Ilidza, where the VRS had its positions.
A report from the VRS Main Staff of 7 April 1995 signed by General Manojlo Milovanovic stated that the BH Army opened 'very intense fire' that morning on the Famos Factory and the nearby settlements. The 'VRS responded appropriately by launching a 250-kg air bomb on the center of Hrasnica', the report stated. It was 'a normal and quiet morning', the witness explained, adding that fire had not been opened from Hrasnica on the Serb positions as the VRS report claimed.
In the cross-examination, Mladic's defense noted a school building was located 'near the explosion site' in the center of Hrasnica: the BH Army 4th Motorized Brigade HQ was located in the school. Defense counsel Miodrag Stojanovic quoted from the 1996 witness's statement to show that the commander of the 4th Motorized Brigade, Fikret Prevljak, ordered the military observers to withdraw from the scene of the incident after they saw 'two legs in uniform with military boots' sticking out of the rubble.
The defense tried to contest the claim that the projectile was fired from Ilidza, putting it to the witness that it could have been launched from the BH Army artillery positions in the Kovaca area in Hrasnica. As the defense contended, it was difficult to establish its bearing because the round exploded in the air and didn't leave clear traces on the ground. The witness agreed that in such cases it was 'more difficult but not impossible' to determine the bearing. The witness noted that the windows on the houses in the street that extended from the site of the incident towards Ilidza were all broken. According to the witness, this implied that the projectile had come in from that direction at a rather low altitude.
Mladic waived his right to attend the last part of the hearing because Oliver Antic, President Tomislav Nikolic's legal adviser came to visit the Serb nationals in the UN Detention Unit in Scheveningen.