Home
ORIC WILL NOT 'DEFEND' KARADZIC
The Trial Chamber has rejected Radovan Karadzic's motion for a subpoena to the former BH Army commander in Srebrenica Naser Oric to compel him to testify in the defense case. The judges decided that the topics Karadzic wanted to explore through Oric were relevant for the case, but that the information Karadzic could obtain from this witness was not 'of substantial or considerable assistance' for the defense of the accused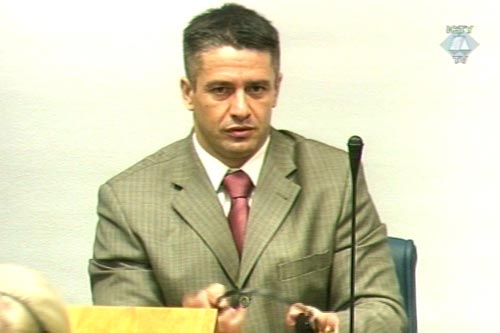 Naser Oric in the courtroom
The Trial Chamber today denied Radovan Karadzic's motion for a subpoena to the former BH Army commander in Srebrenica Naser Oric to compel him to testify in his defense case. The judges decided that Karadzic had made 'reasonable efforts' to obtain Oric's voluntary testimony. However, Karadzic failed to show that the information the witness could provide would be of 'substantial or considerable importance' for the defense.
Karadzic expected Oric's testimony to help him prove that Srebrenica had never been demilitarized, that in early 1995, a large quantity of arms was moved by helicopter to Zepa and then to Srebrenica. In Karadzic's view, Oric could also help him to prove that the BH Army attacked Serb villages immediately before the fall of Srebrenica in July 1995, that it requisitioned humanitarian aid that had been meant for the civilians and opened fire from areas near the UNPROFOR observation posts in a bid to provoke the Serb side to respond.
Finally, Karadzic wanted Oric to help him prove that the Bosnian authorities 'sacrificed Srebrenica and its population' as part of a wider strategy to 'obtain a part of Sarajevo they wanted so much in the final solution of the war'.
The judges found that the topics were relevant for the accused's case but concluded that the information Karadzic could obtain from Oric was not 'of substantial or considerable importance' for the defense of the accused. Some of the topics – such as the demilitarization of Srebrenica, the possession of heavy arms, the efforts to smuggle the arms and ammunition and the attacks on Serb villages around Srebrenica – have already been covered in the evidence of other defense witnesses.
The judges also note that Oric left Srebrenica for Tuzla in March 1995 and didn't return to the enclave until the end of the war. In that period, according to the evidence of Dutch Battalion deputy commander Robert Franken, Ramiz Becirovic stood in for Oric. As a result, Oric was not in the position to testify about the BH Army attacks on Serb villages on the eve of the fall of Srebrenica in July 1995, the incidents in which Serb positions were targeted from areas near the UN observation posts, and about the Bosnian authorities allegedly 'sacrificing' Srebrenica.