Home
LJUBISA BEARA REFUSES TO OBEY SUPREME COMMANDER
Another convicted VRS general has refused to give evidence in the defense of his former supreme commander, prompting Radovan Karadzic to ask the Trial Chamber to issue a binding order compelling him to appear as a witness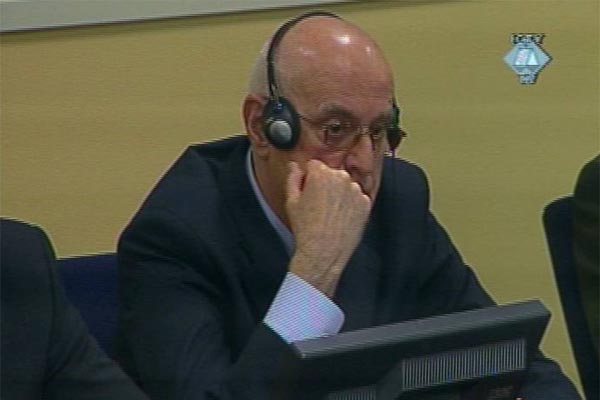 Ljubisa Beara in the courtroom
Ljubisa Beara, former chief of security in the VRS Main Staff, has refused to appear as a witness in Radovan Karadzic's defense. Beara has been sentenced to life for his part in the Srebrenica genocide.
Karadzic's motion for a subpoena notes that Beara has refused to meet Karadzic in the UN Detention Unit. The defense counsel representing the convicted chief of the Main Staff security service has informed Karadzic that his client is not willing to testify in this case.
Karadzic claims that Beara's evidence might be relevant for his case because the former chief of security could confirm that he 'never informed' the supreme commander 'either orally or in writing that the [Srebrenica] prisoners had been killed, were being killed or would be killed '. Through Beara's evidence Karadzic intends to prove there was no intent to commit genocide. Karadzic has been charged with genocide.
Beara should also confirm that he 'never wrote anything pertaining to the execution of prisoners'. This would allow Karadzic to challenge the prosecution's allegation that he received reports about the executions from various sources, including the reports of the VRS Main Staff security service headed by Beara.
In his motion Karadzic has asked the judges to order Ljubisa Beara to appear as a witness on 9 May 2013.