Home
22 YEARS IN PRISON FOR STANISIC AND ZUPLJANIN
Former Bosnian Serb police officials Mico Stanisic and Stojan Zupljanin were sentenced to 22 years in prison for the crimes against Bosnian Croats and Muslims in 1992. Stanisic and Zupljanin were found guilty of persecution, murder, torture and other crimes perpetrated as part of the joint criminal enterprise. The objective of the crimes was to permanently remove Bosnian Muslims and Croats from the territory of the planned Serb state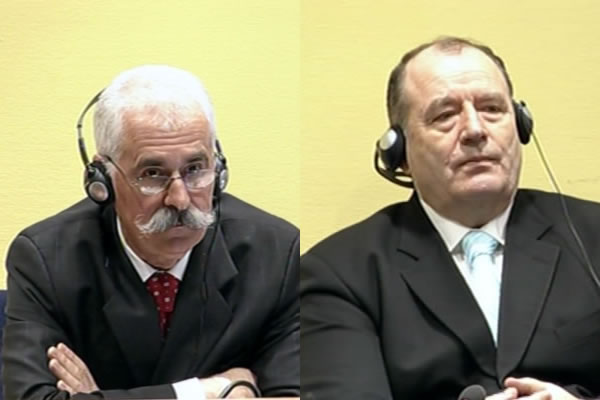 Mico Stanisic i Stojan Zupljanin in the courtroom
Judge Burton Hall's Trial Chamber handed down the sentences of 22 years in prison to Mico Stanisic and Stojan Zupljanin. Stanisic was the first wartime interior minister in the Bosnian Serb government and Zupljanin was the chief of the Security Services Center in Banja Luka.
The Trial Chamber established 'beyond reasonable doubt' that through their acts and omissions the accused 'significantly contributed' to the joint criminal enterprise whose objective was to permanently remove Bosnian Muslims and Croats from the territory of the planned Serb state. Many members of the Bosnian Serb military and political leadership, including Radovan Karadzic and Ratko Mladic, were involved in the enterprise, the judgment stated.
Stanisic was found guilty on three and Zupljanin on four counts in the indictment. The judges found that both of them were guilty of the persecution as a crime against humanity through the underlying acts of killing, torture, unlawful detention, establishment and perpetuation of inhumane living conditions, forcible transfer and deportation, plunder of property, wanton destruction of towns and villages including destruction or willful damage done to religious and other cultural buildings, and through the imposition and maintenance of restrictive and discriminatory measures. Both Stanisic and Zupljanin were convicted of murder and torture as violations of laws and customs of war. Zupljanin was also convicted of extermination as a crime against humanity.
In the judgment summary, Judge Hall highlighted the characteristic pattern of the commission of crimes repeated in all 20 municipalities in Bosnia and Herzegovina listed in the indictment. According to the Trial Chamber's factual findings, the joint Serb forces – including the police – first used violence to take over the municipalities, disarmed and robbed non-Serbs. The men, women, children and the elderly were indiscriminately arrested and detained. The civilians were detained in inhumane conditions where they were physically abused, sexually assaulted and killed. The same pattern was replicated to varying degrees of intensity in Banja Luka, Bijeljina, Bileca, Bosanski Samac, Brcko, Doboj, Donji Vakuf, Ilijas, Kljuc, Kotor Varos, Pale, Prijedor, Sanski Most, Skender Vakuf, Teslic, Vlasenica, Visegrad, Vogosca and Zvornik.
Judges Burton Hall, Frederik Harhoff and Guy Delvoie dedicated an entire volume of the judgment to a detailed analysis of the forensic evidence of the circumstances and causes of the victims' death. The judges needed more than 600 pages to present their findings pertaining to each of the 1,735 individuals who were murdered and whose names are listed in the indictment.