Home
CONTESTING MARKALE 2 MASSACRE
In the cross-examination of a French officer who testified at the trial today, Ratko Mladic's defense contested the accusations related to the massacre at the Markale market on 28 August 1995. The defense put it to the witness that the Bosnian side had brought in the bodies of persons who had been killed elsewhere to increase the number of casualties and that the UN command tampered with the results of the investigation, opting for the theory that would justify NATO strikes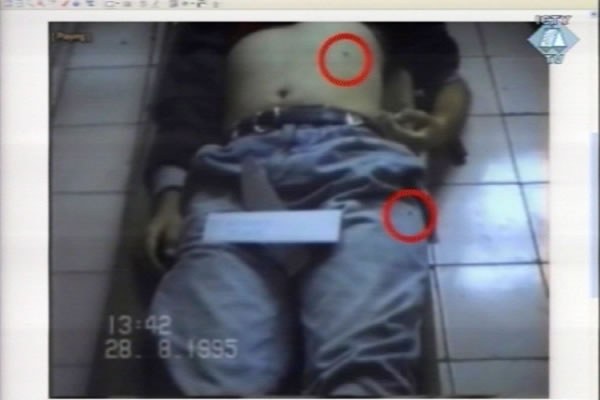 Photo of the body of Vehid Komar in Sarajevo morgue
Ratko Mladic's defense continued with the cross-examination of a French officer testifying under the pseudonym RM 55. The defense tried to contest the witness's claims about the massacre at the Markale market on 28 August 1995. As alleged in the indictment, 43 Sarajevo citizens were killed and 75 wounded in the explosion of a mortar shell fired from the VRS positions.
Mladic's defense counsel Branko Lukic showed the witness a photo of a victim's body, lying over a metal fence near the market building. The defense counsel found it suspicious that there was not a lot of blood on the asphalt beneath the victim; furthermore, the person was not on the list of victims of the Markale incident. The witness agreed that there was not much blood under the body, adding that he had no information as to whether the name of that person was on the victim list.
The defense counsel showed the witness a photo of another victim, taken in the Sarajevo morgue. The victim was Vehid Komar and his name, lawyer Lukic suggested, was on the victim list although wounds on his body didn't appear to have been inflicted by mortar shell shrapnel. The witness said that in that case, the wounds were caused by bullets. Shell fragments 'tear tissue and rip it apart' but the photo didn't show signs of that, the witness explained.
In his answers to the defense counsel's questions, the witness said that he heard several detonations at the time when the Markale incident occurred. When he arrived at the site of the explosion, the witness saw that the shells had also impacted in a side street, about 200 meters from the market. The witness noted that he didn't pay much attention to that site and other impact sites. At the time, the witness thought the most important thing was to inspect the place where so many people had been killed.
The defense counsel contested the findings of the Markale incident investigation conducted by the UNPROFOR staff. Finally, the defense counsel put it to the witness that he and General Rupert Smith decided to 'go with the theory' that blamed the Serb side in order to justify NATO strikes. 'Sir, it is your interpretation and I cannot agree with it', the witness replied. The witness added that he and General Smith were very much aware of the possible 'grave consequences' of the findings of the investigation. This is why they considered carefully the conclusions of the French engineering unit. They drafted and signed the report after careful deliberation, the witness explained.
In 1995, General Rupert Smith was the commander of UNPROFOR in BH. According to the prosecution witness list, General Smith will be the next witness at the trial of the former VRS commander VRS Mladic, after the defense completes the cross-examination of the French officer.