Home
'DRASTIC DIFFERENCE'
In the cross-examination of General Michael Rose Ratko Mladic's defense pointed to the 'drastic difference' in the way the UN and NATO treated the warring sides in BH. The defense contends that the Western forces attacked the BH Army with 'strong words' and Serbs with 'strong bombs'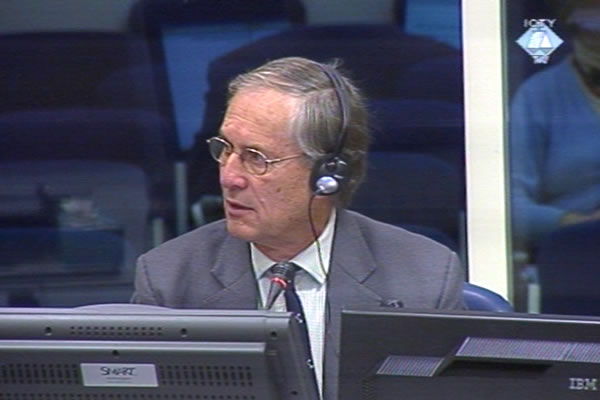 Michael Rose, witness at the Ratko Mladic trial
The defense of the former commander of the VRS Main Staff, Ratko Mladic, argued in the cross-examination of British general Michael Rose that the UN troops in BH were not unbiased. Together with the NATO air force, the UN sided with the Bosnian Muslims, the defense claimed. The Bosnian Serbs 'had the right' to respond to force with force.
As Mladic's defense counsel said, the difference in the way the warring sides were treated was 'drastic'. The Western countries attacked the BH Army with 'strong words' and used 'strong bombs' to attack the Serbs, Lukic quoted Radovan Karadzic as saying. The defense counsel put it to the British general that it never occurred to the UN to bomb the BH Army positions as Rose was 'told that NATO wouldn't act against Muslims'.
General Rose said that a military intervention was sought only when a side in the conflict violated a NATO ultimatum. The witness recalled a situation in which the BH Army violated the ultimatum about the total exclusion zone at Mt. Igman but a decision was eventually made not to intervene. In all other cases the Serb side violated the ultimatums, General Rose noted.
As defense counsel Lukic said, General Rose called for NATO strikes on the Serb positions around Gorazde in April 1994. He also asked the general if the Serbs in that situation had the right not to be merely 'sitting ducks' and respond to fire. General Rose replied that in the first place the Serbs 'didn't have the right to find themselves in that situation'. Furthermore, the Serbs had an alternative: they could have stopped firing on Gorazde but didn't do that, General Rose remarked.
Rose dismissed the defense's suggestion that Serbs in Gorazde weren't given an opportunity to stop the attack on the town and thus prevent the NATO air strikes on their positions around it. On the contrary, as the British general explained, the airplanes would first fly over the target several times and then would drop warning sound missiles. The Serb side ignored these warning, the witness explained.
General Rose agreed with the defense's claim that UNPROFOR tolerated the BH Army armed units in the so-called UN safe havens – Srebrenica, Zepa, Gorazde, Sarajevo, Tuzla and Bihac. However, the witness insisted that the UN troops in BH didn't have the mandate to disarm any of the warring sides.
General Rose's evidence will continue tomorrow morning.