Home
KARADZIC SUBMITS REVISED WITNESS LIST
Radovan Karadzic has submitted a revised list of witnesses he plans to examine during the defense case, due to open on 16 October 2012. Karadzic has reduced the number of witnesses from 600 to 590. He has also indicated he will be the last witness, if he considers this to be necessary at the end of his case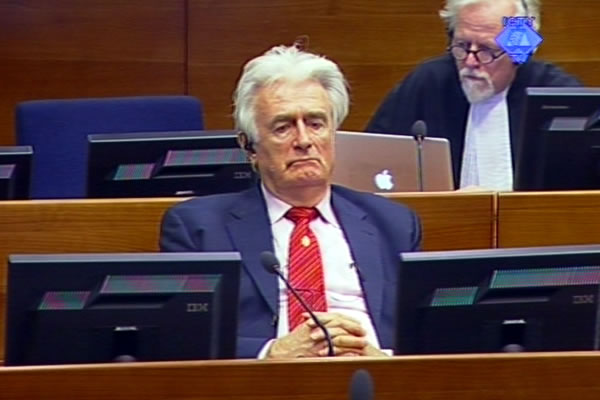 Radovan Karadzic in the courtroom
In line with the guidelines issued last week by the Trial Chamber, Radovan Karadzic has provided a revised list of witnesses he plans to call during his case. The defense case is scheduled to begin on 16 October 2012. The new witness list, confidential as was the previous one, is shorter by ten names. Instead of 600 witnesses he initially intended to call, Karadzic now plans to examine 590 witnesses.
At the status conference last week, the Trial Chamber urged Karadzic to put together a revised witness list by 14 September 2012, in light of the guidelines that may substantially reduce the number of hours needed for the defense case. Karadzic has initially indicated he would need 300 hours to examine the witness and 300 hours to contest the adjudicated facts from other trials that the Trial Chamber formally took notice of in his case.
In the motion attached to the revised witness list Karadzic says that for each witness an estimate of the time needed for their examination has been provided. Also, Karadzic has submitted the names of 'character witnesses' he intends to call to elicit evidence that might be considered in mitigation by the judges if they convict him. The defense will continue reviewing its witness list and try to avoid unwanted repetition and issues irrelevant for the case, in line with the guidelines, Karadzic says.
As Karadzic says in the motion, he considered 'carefully' the judges' opinion that if he decided to testify, his evidence would have bigger impact at the beginning of the trial before other witnesses are heard.
'If he were certain that he will testify in his case, he would be ready to testify as the first witness. However, his decision to testify will depend in large part on what evidence he is able to elicit from his defense witnesses and whether his testimony is actually needed for his defense. Therefore, he maintains his position that if he testifies, he will do so as the last defense witness.', the defense notes in its motion.